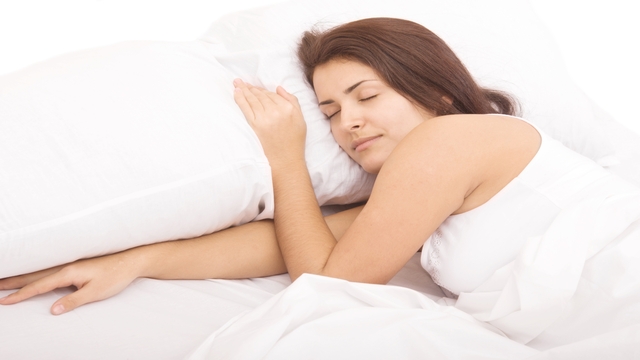 Nassyrov Ruslan/PhotoSpin
It's that time of year again. Daylight saving time is just around the corner, and many Americans are still struggling to get a proper night of rest.
National Sleep Awareness Week is held from March 3 to 10 in order to "celebrate the health benefits of sleep," according to the National Sleep Foundation's website.
During this week, results for the Sleep in America poll on exercise and sleep were released. The biggest finding of the poll is that people who exercise more tend to sleep better as well.
Non-exercisers tend to struggle getting a good night's sleep.
Non-exercisers have trouble staying awake more often than people who exercise, and they take more naps and consume more caffeine.
Non-exercisers also cope with poor sleep quality by taking medication more often than people who exercise.
Non-exercisers are more at risk for sleep apnea as well, according to the poll.
Other poll results show that people who sit less throughout the day tend to have better sleep quality. For full poll results, you can refer to the links in the sources section below.
Dr. Nitun Verma, the medical director at Washington Township Center for Sleep Disorders, said in an email that he thinks exercise can improve sleep quality, because more exercise can impact the amount of slow wave sleep people experience.
Slow wave sleep is "a very deep sleep that would normally decrease with age," he said.
Verma added that this type of sleep is "highly restorative."
Besides the close connection between sleep and exercise, mental health is involved in the equation.
"Poor sleep causes or worsens symptoms like depression and anxiety," he said. "But mental health disorders cause sleep problems as well."
Verma said one of the poll findings that stood out to him is the fact that most people in the poll did not notice a difference in sleep quality when they exercised at different times in the day.
"Old data suggests not exercising within three hours of bedtime," he said.
For National Sleep Awareness Week, Verma suggested the following for women.
"The survey reinforces the fact that most people need [seven to nine] hours of sleep a day, but for busy people this is difficult," he said.
"For sleep awareness week, women should try to increase their sleep by one hour a day and see how they feel."
Sources:
Verma, Nitun. Email interview. March 6, 2013.
http://washingtonsleep.com/team.html
National Sleep Foundation. National Sleep Awareness Week 2013. Web. March 7, 2013.
http://www.sleepfoundation.org/event/national-sleep-awareness-week-2013
National Sleep Foundation. National Sleep Foundation Poll Finds Exercise Key to Good Sleep. Web. March 7, 2013.
http://www.sleepfoundation.org/alert/national-sleep-foundation-poll-finds-exercise-key-good-sleep
National Sleep Foundation. 2013 Exercise and Sleep. Web. March 7, 2013.
http://www.sleepfoundation.org/2013poll
Reviewed March 7, 2013
by Michele Blacksberg RN
Edited by Jody Smith