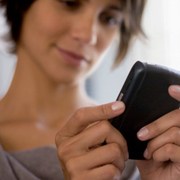 Creatas Images/Thinkstock
Applications for smart phones and other technology are popular and can make life easier in many ways, ranging from apps that can find the cheapest gas station to apps that can track your menstrual cycle.
Experts have even been developing numerous applications to help treat mental illnesses.
Here are examples of free apps that some people with mental health issues are using to improve their situation.
PPD Gone! (http://ppdgone.com/):
Shoshana Bennett, a clinical psychologist and author of several books like "Postpartum Depression for Dummies," has survived "two life-threatening postpartum depressions" and recommends her app PPD Gone! for new mothers who are at risk or already suffering from PPD.
"Apps can be extremely useful as a tool for dispensing information and resources," Bennett said.
"PPD Gone! is one of the apps that my colleagues and I regularly give to new mothers who are suffering since they can literally receive help (including audio, videos, phone numbers, reliable websites) with the touch of a button."
The app also allows users to call "Dr. Shosh" or email her, as well as listen to audio recordings and watch videos with tips, advice and information about PPD.
"Depression robs us of the motivation to search for resources, and apps can benefit those afflicted instantly," she added. "Apps don't replace speaking to a therapist, but they can be excellent in aiding the process of recovery."
iPromises (http://ipromises.org/):
Dr. David Sack, an addiction psychiatrist and CEO at Promises Treatment Centers, created the iPromises Recovery Companion app to help people who are in recovery from addiction stay connected with other people in recovery and with AA groups.
"Users report benefiting most from the mood tracker and the daily reflections features," Sack said.
"The mood tracker allows users to monitor how their mood changes over time, and also alerts them if they choose a mood that they have pre-selected as a relapse risk for them. The reflections are not only motivational, but they also offer useful tips and exercises that people can use in their daily lives to enhance their recovery."
The app can help users schedule their AA meetings with its calendar feature.
"Any app that connects people to others in recovery can be a valuable source of support," Sack said. "For those who have limited access to peer support, it can be a lifeline to connect them to others in recovery. An app is not a therapist – it cannot respond with specific answers to complex challenges – but it can be useful between visits to the therapist or peer support meetings as a way to understand the challenges they face in recovery."
"With the iPromises app, the client has the ability to instantly connect with their 12-step sponsor if they are feeling at risk – a regular reminder that they are not alone and should always reach out for help rather than reach out for drugs or alcohol," he added.
Sack reinforced that people in recovery need "real human connection" to avoid isolation and relapse, and the app should not be a substitute for actual peer support experienced through 12-step programs.
PTSD Coach (http://www.ptsd.va.gov/public/pages/ptsdcoach.asp):
Sheela Raja, a clinical psychologist and author of "Overcoming Trauma and PTSD," said she recommends the PTSD Coach app to her clients, and found that some clients are managing their moods better with the app's help.
Raja had her internship and post-doctoral training completed at the National Center for Post-Traumatic Stress Disorder, which developed the app.
According to the U.S. Department of Veterans Affairs website, the app "can help you learn about and manage symptoms that commonly occur after trauma."
Some features of the app include information about skills that help people cope with symptoms of stress, as well as facts about PTSD and its treatments. In addition, users can keep track of and screen for symptoms.
"[It's] based on very sound, cognitive-behavioral principles for treating symptoms of post-traumatic stress," Raja said.
"Although it is not a substitute for treatment, it can be very useful when people need extra help. It also has a feature can help you get in contact with someone immediately, in case you are feeling suicidal."
In general, she is supportive of using apps as a tool for maintaining decent mental health.
"I think apps are an excellent way to supplement good mental health treatment, and to practice some of the skills you are working on with your therapist," Raja said.
"However, it's important to work with a mental health professional or medical professional to make sure you are using an app that is based on sound practice and research. There are so many options out there, so it's hard to make the decision by yourself."
Sources:
Sack, David. Email interview. July 10, 2012.
Raja, Sheela. Email interview. July 9, 2012.
http://www.sheelaraja.com
Bennett, Shoshana. Email interview. July 9, 2012.
http://drshosh.com
Reviewed July 12, 2012
by Michele Blacksberg RN
Edited by Jody Smith