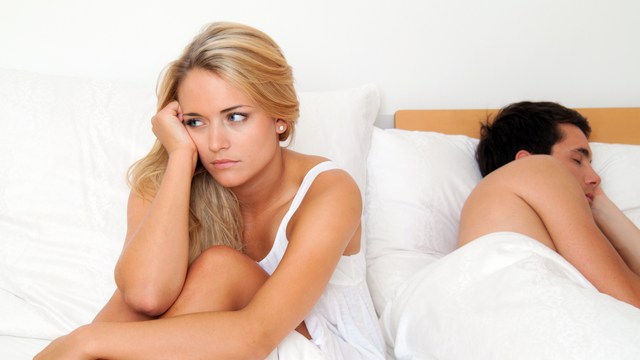 Erwin Wodicka/PhotoSpin
As you plan your night out for the Fourth of July, you might want to scratch out any late-night encounters with cute men or women you find underneath the fireworks. Because according to a recent study, casual sex might actually harm your mental health instead of giving you that boost you were looking for.
Researchers found that young adults in college suffered from "higher levels of general anxiety, social anxiety, and depression" after engaging in casual sex, according to a study published in The Journal of Sex Research.
The study defines casual sex as "having intercourse with a partner one has known for less than a week."
Participants included 3,907 college students ages 18 to 25 who consider themselves to be single and heterosexual. Although men reported engaging in casual sex more than women, both men and women experienced a decrease in well-being and an increase in psychological distress after having casual sex.
Researchers believe sexual regret is responsible for negative well-being and for psychological distress associated with casual sex. They also suggest that engaging in casual sex could be a symptom of general problematic behavior.
However, this research is not the final word on the subject of casual sex. A previous study was conducted in 2009 by the University of Minnesota. Researchers found that "young adults engaging in casual sexual encounters do not appear to be at increased risk for harmful psychological outcomes as compared to sexually active young adults in more committed relationships."
Looking at the references for this most recent June 2013 study in The Journal of Sex Research just goes to show how casual sex is becoming more prevalent in our society. Researchers are trying to keep up with multiple studies to see how this type of sex is affecting both physical and mental health.
The American Psychological Association released a report earlier this year about the "sexual hook-up culture," detailing the link between mental health and hookups. The report defines hookups as "brief uncommitted sexual encounters between individuals who are not romantic partners or dating each other."
The report outlines studies showing both positive and negative mental health effects from casual sex. For example, one study in 2008 found that 57 percent of women were glad they hooked up the morning after.
However, another study showed that feelings during a hookup don't necessarily match feelings several days after. In a 2002 study, 35 percent of the participants felt regretful or disappointed after a hookup, yet 65 percent of participants also stated that they felt "good, aroused or excited" during the actual act.
Other studies mentioned in the APA report also found that in certain cases, casual sex can relieve some depressive symptoms and loneliness, but it can also lower self-esteem depending on the person.
With the variety of results out there linking casual sex to different mental health effects, I think it's safe to say that even "casual" sex can be pretty complicated.
What do you think? Do you think casual sex can harm or benefit mental health?
Sources:
Bersamin, Melina M. and Zamboanga, Byron L., et al. Journal of Sex Research. Risky Business: Is There an Association between Casual Sex and Mental Health among Emerging Adults? Web. July 1, 2013.
http://www.tandfonline.com/doi/full/10.1080/00224499.2013.772088#.UdJH1utu7cE
ScienceDaily. Are College Student Hook-Ups Linked to Anxiety and Depression? Web. July 1, 2013.
http://www.sciencedaily.com/releases/2013/06/130628130934.htm
University of Minnesota. U of M studies psychological impact of casual sex. Web. July 1, 2013.
http://www.health.umn.edu/media/releases/benefits120909/
Garcia, Justin R. American Psychological Association. Sexual hook-up culture. Web. July 2, 2013.
http://www.apa.org/monitor/2013/02/ce-corner.aspx
Reviewed July 2, 2013
by Michele Blacksberg RN
Edited by Jody Smith