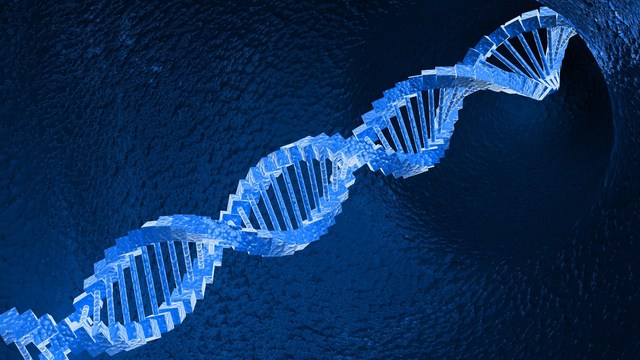 Divakaran Dileep/PhotoSpin
If you think mental health conditions are clear-cut with permanent definitions, there is a new study to prove you wrong. Schizophrenia is now considered to be eight different mental health conditions, according to a study published in The American Journal of Psychiatry.
Researchers stated, "Schizophrenia is a heterogeneous group of heritable disorders caused by different genotypic networks that cause distinct clinical syndromes."
So basically, people with schizophrenia have specific sets of genes that work together to produce different symptom combinations or profiles. Researchers suggest that there are actually eight different types of schizophrenia, according to a news release from Washington University in St. Louis.
Although researchers have known for a while that schizophrenia is a highly genetic disorder, it was mostly unknown which genes actually lead to a schizophrenia diagnosis, according to the news release.
The study used data from 4,200 people with schizophrenia and 3,800 people without the disorder.
Researchers looked at almost 700,000 sites within the genome where one unit of DNA changes, which is called a single nucleotide polymorphism (SNP), according to the news release.
They then identified sets of SNPs that interacted, narrowing it down to 42 sets of SNPs that are highly associated with a schizophrenia diagnosis (70 percent or greater risk of suffering from schizophrenia), according to the study.
Researchers then reduced those SNP sets into eight different symptom profiles. For example, one type of schizophrenia may only suffer from hallucinations or delusions, while another type may have issues with disorganized speech and behavior, according to the news release.
Before this study was even released, schizophrenia has actually had quite a journey regarding its definition.
It was previously accepted that schizophrenia is one main disorder with three subtypes, according to the fourth edition text revision of the Diagnostic and Statistical Manual of Mental Disorders (DSM-IV-TR). These three subtypes were paranoid, disorganized and catatonic.
Schizophrenia was in a classification referred to as "schizophrenia and other psychotic disorders," which also included eleven subclassifications.
Now, in the fifth edition of the Diagnostic and Statistical Manual of Mental Disorders (DSM-5), schizophrenia is considered to be on a "spectrum," with five key features that define both schizophrenia and other psychotic disorders.
These five features are: delusions, hallucinations, disorganized thinking (speech), grossly disorganized or abnormal motor behavior (including catatonia), and negative symptoms.
The other psychotic disorders that schizophrenia is associated with are: schizotypal (personality) disorder, delusional disorder, brief psychotic disorder, schizophreniform disorder, schizoaffective disorder, substance/medication-induced psychotic disorder, and psychotic disorder due to another medical condition.
So looking at schizophrenia's history just over the last several years, it was apparent that its definition already wasn't clear-cut. Even though many people commonly just refer to schizophrenia with one word, it's much more complex than that.
Although it's interesting that schizophrenia is now eight different types instead of three subtypes or a spectrum, the most important part of this recent study appears to be the potential for better treatment and diagnosis options by looking at actual genes. It could also lead to a change in how schizophrenia is defined in the DSM.
Dr. Kiran Taylor, the medical director of the Supportive Care Medical Clinic at Spectrum Health Medical Group, said in an email that the DSM is constantly trying to keep up with the continuous mental health research. But the question remains --is it evolving fast enough to be useful to mental health professionals and patients?
"For patients, hopefully it's reassuring that there is potential to generate more treatment options and understand that it's OK if [their] symptoms don't match a textbook," Taylor said.
"It's about how can they best function in society and have the best quality of life for themselves, considering their disease burden and psychosocial environment."
Although schizophrenia is strongly predicted by genetics, she said that symptoms can still be managed by psychotherapy and behavior changes.
Sources:
Taylor, Kiran. Email interview. September 17, 2014.
http://www.spectrumhealth.org/body_physdirectory.cfm?id=100&action=detail&ref=4924
Dryden, Jim. Washington University in St. Louis. Schizophrenia not a single disease but multiple genetically distinct disorders. Web. September 17, 2014.
http://news.wustl.edu/news/Pages/27358.aspx?utm_source=dlvr.it&utm_medium=tumblr
Arnedo, Javier and Svrakic, Dragan, et al. The American Journal of Psychiatry. Uncovering the Hidden Risk Architecture of the Schizophrenias: Confirmation in Three Independent Genome-Wide Association Studies. Web. September 17, 2014.
http://ajp.psychiatryonline.org/Article.aspx?ArticleID=1906049
American Psychiatric Association. (2013). Diagnostic and statistical manual of mental disorders (5th ed.). Arlington, VA: American Psychiatric Publishing.
http://www.dsm5.org/Pages/Default.aspx
American Psychiatric Association. Diagnostic and Statistical Manual of Mental Disorder: Fourth Edition: Text Revision. Arlington, VA: American Psychiatric Association, 2000.
Reviewed September 19, 2014
by Michele Blacksberg RN
Edited by Jody Smith