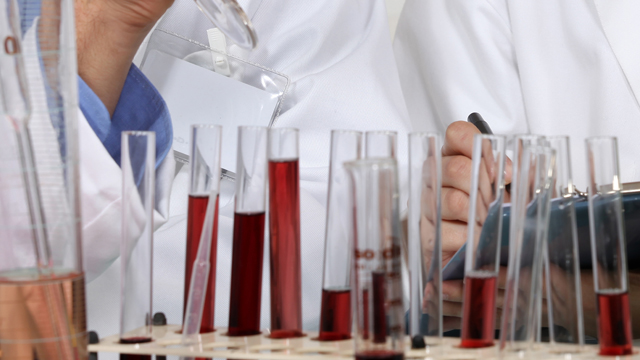 iStockphoto/Thinkstock
If genetic engineering sounds a little creepy to you, akin to lab-produced glow-in-the-dark worms and mutant humans with superpowers, I know some really cool researchers who might change your mind.
These researchers, led by Dr. Aaron P. Rapoport , the Gary Jobson Professor in Medical Oncology and Director of Gene Medicine/Lymphoma at the University of Maryland in Baltimore, are using genetic engineering to get some pretty impressive results for people suffering with difficult-to-treat multiple myeloma (MM), a type of cancer that starts in bone marrow.
Although about 35 percent of patients benefit from standard treatment, i.e. longer life, less pain and fewer complications, there is virtually no cure for multiple myeoma. Rapoport says standard treatment is effective — at least for a while, but in many MM patients it eventually stops working and there is a recurrence of disease.
Unfortunately, standard treatment is less effective for people with aggressive MM, who realize limited benefits for short intervals. The disease is marked by a high prevalence of infections such as pneumonia, bone pain, hypercalcemia (elevated calcium in the blood), renal failure and spinal cord compression.
That's where genetic engineering comes in.
Genetic engineering, technically known as recombinant DNA technology, is a fairly new concept that's increasingly becoming an important tool in treating HIV-AIDS and cancer. Perhaps, in the future, conditions such as hemophilia, Parkinson's disease, diabetes and a form of inherited high cholesterol (hypercholesterolemia).
Researchers are investigating right now to determine whether or not recombinant DNA technology will slow or cure these diseases.
There are two main ways in which genetic engineering is being used.
In the first, researchers pluck genes from one type of organism, say algae or sheep for example, and combine them with genes from a second organism — like you and me.
We're not talking science fiction animal-human hybrids here. These engineered genes can be coaxed to make human hormones such as insulin, or human proteins capable of fighting hard-to-treat hepatitis and the AIDS virus.
The second option is gene therapy. Doctors replace defective or missing genes with normalized genes capable of slowing or stopping the disease progression—and in a best-case scenario, curing them.
In the phase-II clinical trial , Rapoport's team has engineered T-cells in 13 patients with difficult-to-treat multiple myeloma, or in people with recurrent or high-risk disease.
"Gene therapy is taking the bull by the horns and retraining the cells rather than relying on standard vaccine treatments alone with less response rate," Rapoport said.
"Four of the patients in the study had previous stem cell transplants without getting results. So while this treatment is still in the early stages, we are feeling encouraged by the outcome."
Cancers can develop when T-cells — specialized "killer cells" produced by the human immune system — lose their ability to target harmful "invader" cells (in this case, cancer cells) they are designed to seek out and destroy, in keeping the body disease-free.
Rapoport and his team add a new gene to each patient's T-cells and infuse the immune system with vaccines. The new gene effectively retrains the existing T-cells to recognize a new target present on the myeloma cells and do their job, that is, attacking cancer cells. It also builds an army of new potent T-cells equipped to destroy or neutralize the cancer cells.
Days later, the supercharged genes are injected back into patients. At day 100 after treatment, 10 of the 13 patients in the trial are in remission or very close to it — a 77 per cent response rate — and the others showed drastic reduction in their cancer, Rapoport said. By contrast, standard MM treatment alone gives a response rate of between 33 and 69 percent.
Rapoport said that the clinical trial is still recruiting patients. To learn more about the study visit: http://clinicaltrials.gov/ct2/show/NCT01352286?term=NCT01352286&rank=1/
The study results were presented at the 54th annual American Society of Hematology meeting Dec. 10, 2012 in Atlanta.
Lynette Summerill is an award-winning writer and Scuba enthusiast who lives in San Diego with her husband and two beachcombing dogs. Besides writing about cancer-related issues for EmpowHER, her work has been seen in newspapers and magazines around the world.
Sources and more information:
Interview with Dr. Aaron Rapoport, University of Maryland. 21 Dec. 2012;
Oral and Poster abstract presentation. American Society of Hematology Meeting. "352 Combination Immunotherapy After ASCT for Multiple Myeloma (MM) Using MAGE-A3/Poly-ICLC Immunizations Followed by Vaccine-Primed and Activated Autologous T-Cells" Aaron P. Rapoport, MD, et al. 10 Dec. 2012. Online at:
https://ash.confex.com/ash/2012/webprogram/Paper53391.html
Multiple myeloma. U.S. National Library of Medicine. Access online at:
http://www.ncbi.nlm.nih.gov/pubmedhealth/PMH0001609
National Cancer Institute Surveillance Epidemiology and End Results. Access online at:
http://seer.cancer.gov
Reviewed December 31, 2012
by MIchele Blacksberg RN
Edited by Jody Smith