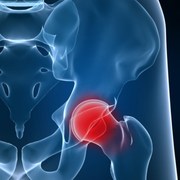 Ingram Publishing/Thinkstock
In the United States, 27 million adults have osteoarthritis, the most common type of arthritis, according to the Arthritis Foundation. With osteoarthritis, the cartilage in the joint breaks down, causing bones to rub against each other.
Patients with osteoarthritis can experience chronic pain and stiffness, affecting their everyday lives.
For patients who are experiencing pain despite using pain medications and walking supports, joint replacement surgery may be an option. To spread awareness about the effects of osteoarthritis and how joint replacement surgery can help, www.RealLifeTested.com/ sponsored by DePuy Orthopaedics, shared the stories of individuals who have had hip or knee replacements, and offered information for patients considering the surgery.
EmpowHER talked to one patient, Jane Linnell, whose osteoarthritis affected her ability to dance, an activity she loved.
EmpowHER also asked Manish A. Patel, M.D., FAAOS, a board certified orthopedic surgeon, assistant professor of orthopaedic surgery at Eastern Virginia Medical School, and director of the Southhampton Orthopaedic and Sports Medicine Center, about joint replacement surgery and what you should know about joint health.
EmpowHER:
What are common misconceptions individuals have about joint health?
Dr. Manish Patel:
Many people don't realize that arthritis is the leading cause of disability in the United States and a majority of people diagnosed with arthritis are under the age of 65. Individuals experiencing joint pain continue to put treatment off in the hopes that their joint pain will get better and because they are unaware of their options.
Instead, they live with the pain that limits the activities they enjoy. Individuals take less walks, become dependent on pain medications and start using assistive devices such as canes and walkers.
There is also a misconception about surgery, as people are sometimes unaware that there have been advances in hip and knee replacement surgery since their parent or grandparent had the procedure.
Over time surgeons have refined surgical approaches in an effort to minimize post-operative discomfort and make the procedure easier for patients to tolerate.
EmpowHER:
What impact did osteoarthritis have on your life?
Jane Linnell:
Osteoarthritis impacted my life in a way that no longer allowed me to participate fully in life. The effects of osteoarthritis impacted my ability to dance, exercise and play with my grandchildren and so much more. Watching my family and friends make adjustments to their lives in order to accommodate my pain was difficult to manage.
Managing chronic pain became exhausting and eventually took its toll. I no longer had the energy or stamina to get through my day of teaching school, piano and exercise. Walking to the playground with my grandchildren, getting up and down steps, or going to the store became increasingly more difficult.
I began to experience feeling down and my interest in life activities began to change. I learned that I let the arthritis control my life rather than my taking control of the arthritis.
EmpowHER:
Why do individuals with chronic hip or knee pain wait on average 7 to 11 years before they have joint replacement surgery?
Dr. Manish Patel:
Even though many people undergo joint replacement surgery, we still see too many people continue to put it off in the hopes that their joint pain will get better.
Unfortunately, the impact of osteoarthritis will only get worse over time.
Many people delay joint replacement surgery because they are afraid, don't have the right information or don't understand treatment options. A lot of the myths and questions can be answered by talking to an orthopedic surgeon.
In my role as a total joint replacement surgeon, I meet with my patients several times prior to surgery to help answer any questions they may have. I also help put patients in touch with some of my previous patients, such as Larry, a knee replacement patient featured on www.RealLifeTested.com/ to help answer any questions they may have from a different perspective.
Like many surgeons, our practice offers additional resources and support such as a total joint replacement education program where patients have the opportunity to visit the hospital, meet the operating room staff and nurses that will be with the patient every step of the way.
EmpowHER:
What made you decide to finally have joint replacement surgery?
Jane Linnell:
After having arthroscopic surgery four times on my left knee and several rounds of hyalgon injections, my surgeon began talking about joint replacement. Like many patients, the first thing I said was absolutely not!
My surgeon encouraged me to go home and do my research. I was impressed by his suggestion; therefore, I researched everything I could find regarding joint replacement. I learned about the variety of products available, what to expect with surgery, the recovery time and the quality of life after replacement.
I was overwhelmed with the amount of information available to prospective patients considering joint replacement. At my next appointment I took all of my information with me but was still unable to make a decision. Finally, my surgeon suggested a bone scan.
He made it very clear to me the results of the scan would give us a definitive answer that would guide me to make a decision regarding replacement. After seeing the results of the bone scan, I was convinced the best option for me was to move forward with joint replacement.
My surgeon and I discussed options and agreed the DePuy Orthopaedics Sigma Rotating Platform knee was the best option for me based on my activity level and lifestyle. My surgeon also assured me that my age was not a factor in making this decision. My quality of life was what was most important to him at that time.
EmpowHER:
How did having joint replacement surgery affect your health and everyday life?
Jane Linnell:
I felt like I had been given a second chance at life after joint replacement. I no longer had to deal with chronic pain. This allowed me to engage in any activity I chose without worrying if I'd have enough energy, if I'd be able to enjoy the activity to its fullest, or if I would have to skip an activity because of my pain.
I was finally in a place in my life where I am a full and active participant in all activities in my life. I begin each day wondering if there will be enough time in the day to do everything I would like to do. I am able to bike, dance, play golf, swim, hike, play with my grandchildren and the list goes on.
Most importantly, I enjoy life through the eyes of someone who no longer deals with chronic pain. I enjoy life to its fullest without hesitation and I encourage others with severe joint pain to talk with their doctor about treatment options.
EmpowHER:
As baby boomers begin to hit their most at-risk years for joint replacement, what are important things they should know?
Dr. Manish Patel:
Severe hip and knee pain may be a result of osteoarthritis, which is the most common form of arthritis. Osteoarthritis is still not completely understood and there is no cure but some of the risk factors include family history, aging, weight, joint injury or overuse, nerve injury or lack of physical activity.
Typically, symptoms begin to appear after age 40 and progress slowly. It is a degenerative condition that may slow with early treatment, but affected joints continue to get worse and will eventually impact activity level.
An osteoarthritis diagnosis is typically based on a number of things: medical history, physical examination, X-rays, MRI, and/or laboratory tests. It's important for people experiencing severe hip or knee pain to talk with an orthopedic surgeon in order to know their treatment options.
For more information, including educational resources and seminars, and a doctor locator tool to help find an orthopedic surgeon in your area, people should visit www.RealLifeTested.com/
References
Interview with Jane Linnell. Email. 26 November 2012.
Interview with Manish Patel, M.D. Email. 26 November 2012.
Press Release and Info Sheet. Email. 9 November 2012.
Arthritis Foundation. Osteoarthritis Fact Sheet. Web. 27 November 2012.
http://www.arthritis.org/media/newsroom/media-kits/Osteoarthritis_fact_sheet.pdf
Reviewed November 27, 2012
by Michele Blacksberg RN
Edited by Jody Smith
Tags: