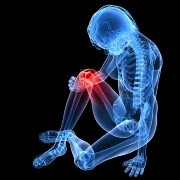 Photo: Getty Images
The American Academy of Orthopaedic Surgeons noted that in 2003, about 19.4 million visits to the doctors were due to knee problems. The knee can be easily injured, and one area of the knee that may become injured is the patella, or knee cap.
There are several different types of disorders of the patella.
Patellar Fractures
About 1 percent of all fractures are patellar fractures, which are more common among men and individuals between the ages of 20 and 50, according to the American Academy of Orthopaedic Surgeons. When the patella becomes fractured, the extent of the injury can range from a slight crack of the bone to several broken pieces.
Depending on how the patella was injured, patients can have fractures at the bottom, top, center or more than one area of the knee cap. A patellar fracture may occur from a fall or accident.
Symptoms include bruising and being unable to walk. Some patients who do not have displaced pieces of bone may wear casts or splints and may not need surgery. For patients with displaced pieces of bones, they may need surgery.
Chondromalacia Patella
With chondromalacia patella, patients have a breakdown of the cartilage that lines the back of the patella. This disorder of the patella occurs in adolescents and young adults and is more common in women than men.
Chondromalacia patella occurs when the knee cap rubs against the thigh bone, which can happen with patients who have flat feet, poor alignment of the patellofermoral joint, or those who do too much physical activity that puts excess stress on the patella.
Symptoms include knee pain and tenderness, and a grinding sensation when flexing the knee. Treatment includes nonsteroidal anti-inflammatory drugs and physical therapy.
Prepatellar Bursitis
Patients with prepatellar bursitis have swelling of the bursa, which is in front of the knee cap. This inflammation can occur in people who kneel for work, play sports where they fall on their knees or receive blows to the knees, were in a motor vehicle accident, or patients suffering from gout or rheumatoid arthritis.
Symptoms of prepatellar bursitis include rapid swelling of the area in front of the patella and pain when performing activities. Treatment options include rest, elevation, ice and medication, such as nonsteroidal anti-inflammatory drugs.
Patellar Tendinitis
Another disorder of the patella is patellar tendinitis, in which the tendon connecting the patella to the shinbone becomes injured. This disorder can cause pain.
Patellar tendinitis commonly occurs in athletes who need to jump often for their sport. Other causes include a raised knee cap, being overweight, muscular imbalance, tight leg muscles and a misalignment of the leg bones.
Conservative treatment for patellar tendinitis includes rest, strengthening of the tendon, and stretching the thigh muscles. Some patients may require surgery or pain medication.
References
American Academy of Orthopaedic Surgeons. Common Knee Injuries. Web. 10 February 2012
http://orthoinfo.aaos.org/topic.cfm?topic=A00325
American Academy of Orthopaedic Surgeons. Patellar (Kneecap) Fractures. Web. 10 February 2012
http://orthoinfo.aaos.org/topic.cfm?topic=A00523
MedlinePlus Medical Encyclopedia. Chondromalacia Patella. Web. 10 February 2012
http://www.nlm.nih.gov/medlineplus/ency/article/000452.htm
American Academy of Orthopaedic Surgeons. Prepatellar (Kneecap) Bursitis. Web. 10 February 2012
http://orthoinfo.aaos.org/topic.cfm?topic=A00338
MayoClinic.com. Patellar Tendinitis. Web. 10 February 2012
http://www.mayoclinic.com/print/patellar-tendinitis/DS00625/DSECTION=all...
Reviewed February 10, 2012
by Michele Blacksberg RN
Edited by Jody Smith