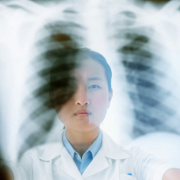 Photo: Getty Images
If you are worried about coming down with pneumonia, you might want to stay away from certain medications used to treat heartburn and gastroesophageal reflux (GERD). A recent study shows some popular heartburn drugs may increase the risk of pneumonia. Researchers in Korea compared results from 31 different studies that took place from 1985 to 2009. Their analysis showed that drugs that are intended to suppress acid in the stomach can actually increase the risk of pneumonia.
The drugs studied includes two types of heartburn medications:
• Histamine-2 receptor antagonists (H2 blockers) work by reducing the amount of acid the stomach produces. Unlike antacids, which neutralize acid immediately, H2 blockers can take up to an hour to start working, but the effects last longer than the relief provided by antacids. A variety of H2 blockers are available over the counter including Zantac (ranitidine) and Pepcid (famotidine).
• Proton pump inhibitors (PPIs) greatly reduce the amount of acid the stomach produces. They generally take longer to start working than H2 blockers, but also continue to provide heartburn relief longer. PPIs are generally recommended for people who have frequent heartburn (more than two days a week). One example of proton pump inhibitors is the drug Prilosec (omeprazole).
Acid suppressors including proton pump inhibitors and H2 blockers are one of the highest selling categories of medications in the world. Dr. Sang Min Park of the department of family medicine at Seoul National University Hospital in Korea is one of the researchers in the Korean study. He said, "Patients should be cautious at overuse of acid-suppressive drugs, both high-dose and longer duration."
Studies have shown that taking H2 blockers increases the odds of pneumonia by 22 percent. Taking proton pump inhibitors increases the risk by 27 percent. Dr. Michael Brown, a gastroenterologist at Rush university Medical Center in Chicago said, "Gastroenterologists in general have become more cognizant of the fact that these drugs can have some side effects."
Between 40 and 70 percent of hospitalized patients are given drugs to suppress stomach acid. This is often done in an attempt to offset the reduced blood flow in the stomach in patients who must spend time in intensive care. Reduced blood flow is believed to contribute to ulcers and bleeding in the stomach which can be life threatening. In many cases, patients leave the hospital with a prescription to continue acid-suppressing drugs.
Statistics show that one out of every 200 in-patients treated with acid-suppressing medications will develop pneumonia. Stomach acid helps keep bacteria and other disease causing agents out of the body. Researchers believe that when there is not enough stomach acid, some of these bacteria or other pathogens may be able to get into the lungs and cause pneumonia.
But scientists also recognize that PPIs and H2 blockers play an important role in reducing other risks. When there is too much stomach acid, some of it can rise up the esophagus and get into the airways. This can cause inflammation in the airways that can lead to infections in the lungs including bronchitis, sinusitis, and possibly pneumonia.
If you have heartburn or GERD, talk to your doctor to find the most effective medication to control your symptoms and reduce your risk of infections and other complications.
Sources:
National Institutes of Health: Medline Plus
FamilyDoctor.org