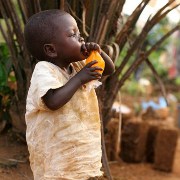 iStockphoto/Thinkstock
In the United States, pneumonia is often thought of as just a bad cold. Once someone gets it, they rest, take some medicine prescribed by a doctor, and are better in a few days, right?
Unfortunately, in many parts of the world, that is just not the case.
It can be a serious disease and without medicine or a doctor in the vicinity, it can have tragic results. For small children and those with compromised immune systems in these circumstances, pneumonia is often deadly.
In 2011, pneumonia was the leading killer of children under five, killing nearly one in five children worldwide. An almost unbelievable 1.3 million children died from pneumonia, even though there exists low-cost and highly-effective antibiotics for fast and thorough treatment.
Sadly, less than one-third of children who are suspected to have pneumonia use antibiotics. And only a small percentage of those children receive the preferred treatment, amoxicillin, as a tablet the dissolves in liquid. This is the recommended antibiotic treatment for small children.
Since the need is so great, several leading child health agencies have joined forces to work together on an unprecedented scale to make sure amoxicillin tablets are dispersed much more readily throughout the world. Having access to this simple medicine can give millions of children a chance to see their fifth birthday.
The child mortality rate has significantly decreased over the past 10 years due to investments in preventing, treating and protecting children against pneumonia. But access to adequate medical facilities and appropriate treatment is still out of reach for many children.
This is especially true in the developing world, where 99 percent of deaths from this treatable and preventable disease occur.
Though most deaths from pneumonia happen far away from the United States, it still impacts plenty of people here too. Kuae Kelch Mattox, national president of the support organization for stay-at-home moms of color, Mocha Moms, Inc., lost her mother to pneumonia 15 years ago after a battle with myasthenia gravis that weakened her immune system.
Though her mother's death was not because of lack of adequate medical care or medicine, it still fueled Kuae's desire to help stop the senseless deaths pneumonia causes in other places in the world.
Together with Shot at Life the United Nations initiative, Kuae and Mocha Moms, Inc., are fundraising to raise money and awareness about the need for medicine and medical care specifically for children in developing countries. So far this year, Mocha Moms, Inc., has helped to save the lives of 235 children.
Though it is difficult to get medicine to every child, with help, money and resources from the United States, children with pneumonia and other treatable diseases are being reached. Organizations like Mocha Moms, Inc., and [email protected] are helping children survive a childhood where too often the odds are stacked against them.
Sources:
WorldpneumoniaDay.org. Web. 13 November 2012. "Pneumonia remains the leading killer of children despite decline in global child deaths".
http://worldpneumoniaday.org/blog/pneumonia-remains-the-leading-killer-of-children-despite-decline-in-global-child-deaths
ShotatLife.org. Web. 13 November 2012. "Hitting too close to home".
http://shotatlife.org/blog/hitting-too-close-to-home.html
Reviewed November 15, 2012
by Michele Blacksberg RN
Edited by Jody Smith