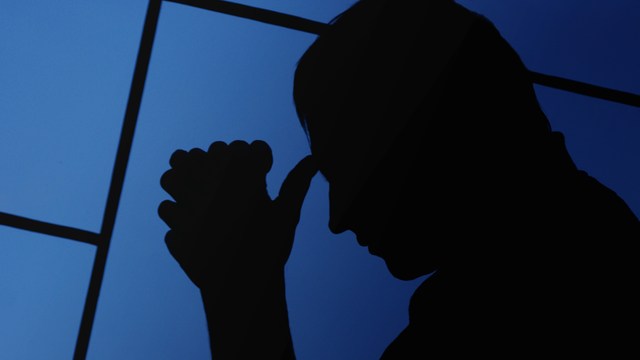 Design Pics/PhotoSpin
Although researchers don't exactly understand the role depression plays in a person's overall cancer survival, a new study looking at prostate cancer in men offers more light.
A number of studies have shown that people diagnosed with breast and liver cancer, who also maintain a positive outlook on life, tend to have better overall survival rates than those who become depressed.
Researchers at UCLA found that depressed men with localized prostate cancer were more likely to be diagnosed with more aggressive prostate cancer, received less effective treatments, and survived for shorter times than prostate cancer patients without depression, reported a news release.
The study found that prostate cancer patients who were older, with lower income, and who had other medical problems, were more likely to be depressed. This was also true of white or Hispanic, as well as unmarried patients, and those residing outside cities.
Several contributing negative factors impacted survival. Bias against the mentally ill, and depression's impact on biological cancer processes, and a depressed man's lack of investment in his general health and disinterest in receiving more effective care, all can have serious consequences.
Missed opportunities by physicians to educate patients about prostate cancer screening and treatment can seriously undermine a patient's chances for survival, the study concluded.
Until now, little has been known about the relationship between depression and diagnosis, treatment and outcomes for men with prostate cancer. This study is important because it sheds more light on these problems.
The study's lead author is Dr. Jim Hu, UCLA's Henry E. Singleton Professor of Urology and director of robotic and minimally invasive surgery at the David Geffen School of Medicine at UCLA. Hu said that the effect of depressive disorders on prostate cancer treatment and survivorship warrants further study because both conditions are prevalent in U.S. men.
Prostate cancer is the most frequently diagnosed cancer in men aside from skin cancer. An estimated 233,000 new cases of prostate cancer will occur in the United States in 2014. And 1 in 10 people in the United States suffer from depression, the Centers for Disease Control and Prevention estimates.
The study was published in the July 10, 2014 early online edition of the Journal of Clinical Oncology, a peer-reviewed journal of the American Society of Clinical Oncology.
The Department of Defense Physician Training Award funded the study.
Lynette Summerill is an award-winning writer and watersports junkie living in San Jose, CA. In addition to writing about cancer for EmpowHER, her work has been seen in publications internationally.