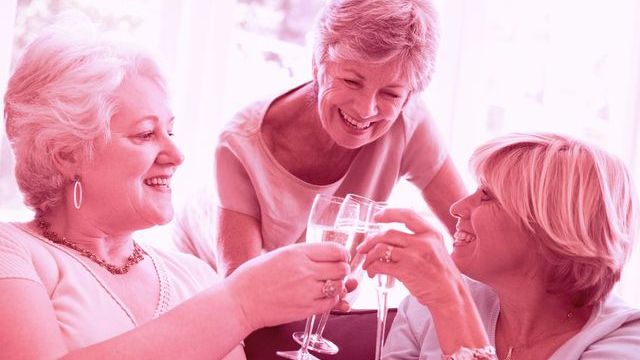 Menopause is a hormonally tumultuous time where women start to experience hot flashes, night sweats, insomnia, dryness, joint pain, mood swings, irregular menstrual cycles and more. It can be a very difficult process trying to adjust to these new changes while maintaining life as you did before. When faced with menopausal symptoms, many women turn to their health care provider for answers and treatment options. While experiencing menopause, many women in the United States are also diagnosed with breast cancer. Unfortunately, about 100,000 women between the ages of 45 and 64, a prime time for menopause, are diagnosed with breast cancer every year and must face both conditions concurrently. What does a woman do then?
One option to help bring more awareness around menopausal women also diagnosed with breast cancer is to throw a Sleep Pink party. The makers of Estroven®, a safe, over-the-counter menopause solution with natural ingredients*, and Avon have teamed up again for the third year to help educate women and men about breast cancer during the month of October and raise funds for research and awareness.
The number one risk factor for breast cancer is simply being a woman. Other risk factors include having immediate family members who have had breast, colon, ovarian or uterine cancer, starting menstruation before 12 years old, becoming menopausal after 55 years old, drinking more than one glass of alcohol per day, not having children or having them later in life, and not breast-feeding, according to PubMed Health.
Age can impact the risk of breast cancer too. 2 out of 3 invasive breast cancer diagnoses are found in women who are 55 years old or over, according to the American Cancer Society. Many of those women are also going through menopause. Everything in a woman's body changes during menopause. When a menopausal woman is also experiencing breast cancer and goes through chemotherapy for treatment, she can experience a mix of symptoms from both conditions, including hot flashes, night sweats, brain fog, joint pain, hair loss and fatigue.
According to the Centers for Disease Control and Prevention (CDC), breast cancer is the most common type of cancer and the leading cause of cancer in women.
This is why education and prevention are so important. Support the Sleep Pink movement by hosting a pink pajama party, setting a fun environment with pink decorations, foods and drinks, and talking to those you love to let them know the facts about breast cancer. It may save their life. For more information on Sleep Pink and to download invitations, find menopause-friendly food and drink recipes, and check out pink decoration ideas for your own party, visit www.sleeppink.com.
References:
Breast Cancer. PubMed Health. Retrieved from http://www.ncbi.nlm.nih.gov/pubmedhealth/PMH0001911/
Breast Cancer Facts. National Breast Cancer Foundation, Inc. Retrieved from http://www.nationalbreastcancer.org/breast-cancer-facts
Breast Cancer Survival Rates by Stage. American Cancer Society. Retrieved from http://www.cancer.org/cancer/breastcancer/detailedguide/breast-cancer-survival-by-stage
Cancer Among Women. Centers for Disease Control and Prevention. Retrieved from http://www.cdc.gov/cancer/dcpc/data/women.htm
* This statement has not been evaluated by the Food and Drug Administration. This product is not intended to diagnose, treat, cure or prevent any disease.