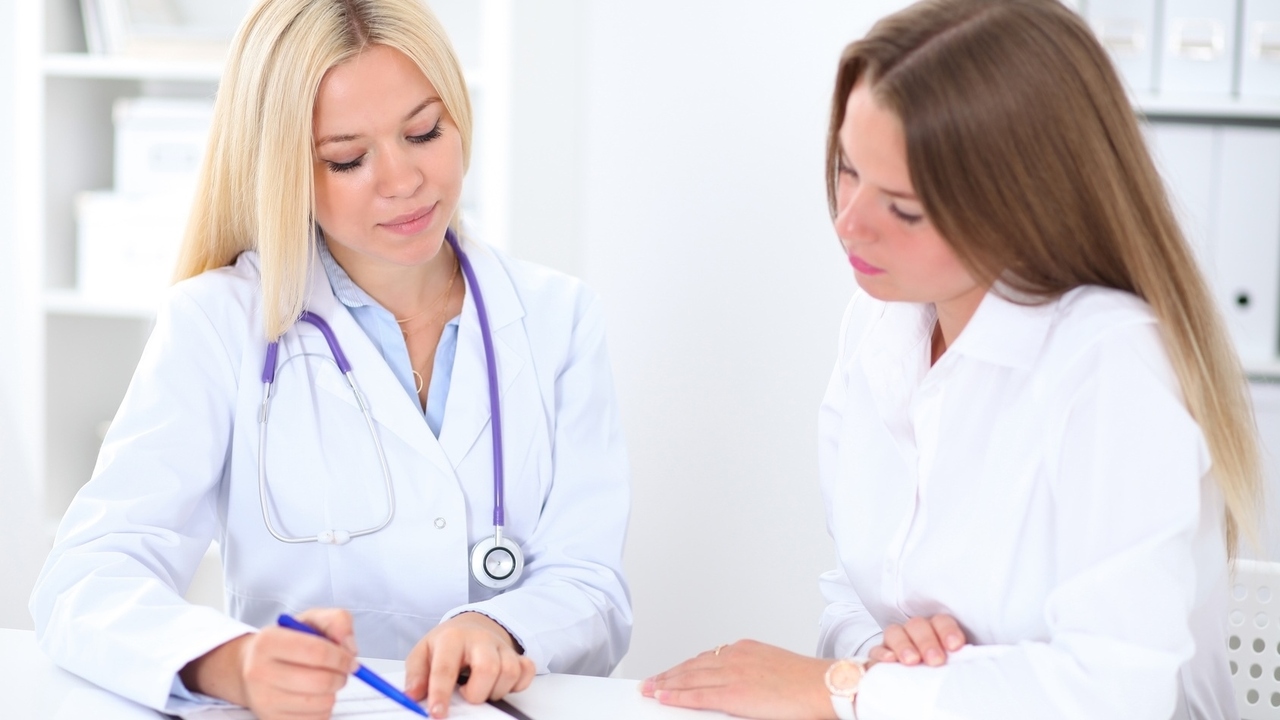 rogerphoto/Fotolia
As you may know already, April was STI/STD Awareness Month. In honor of the occasion, I had the opportunity to chat with Dr. Cherrell Triplett, an incredible and inspiring OB/GYN who practices in the Midwest. She especially enjoys working with adolescents and young adults, but provides care for women at every age and stage of life.
Triplett entered the medical profession after becoming a civil engineer and working as a business consultant. She made the change to medicine because she wanted to make a difference in the lives of individuals.
She hoped for opportunities to connect with patients and found reproductive/sexual health to be a field in which she could truly build relationships, caring for folks over a longer span of time and witnessing some of their most memorable life cycle events.
After speaking with her for only a short while, I understood why young women must feel comfortable sharing their lives, disclosing sensitive information and receiving advice from her. She was warm and approachable, while still offering evidence and addressing tough topics with a matter-of-fact tone.
I asked her what important tidbits our readers should know about the subject of sexually transmitted infections . There were several main points she touched on:
1) If you are sexually active, you ARE at risk for getting STIs.
No one who is sexually active is immune to the possibility of contracting a sexually transmitted infection. Wearing condoms (insertive or external) and practicing other safe sex precautions (like knowing the status of each of your sexual partners) dramatically lower your chance of becoming infected, but does not protect you 100 percent.
There has been an upward trend in cases of chlamydia and gonorrhea in recent years, especially among young people.
Triplett says that she sees many young women with chlamydia — so many that she joked she would like to put zithromaycin (an antibiotic used to treat chlamydia) in the water!
Recently she has been diagnosing fewer cases of gonorrhea, but is seeing many more people with herpes and HPV — a far less treatable and sometimes chronic virus.
Just as Triplett has seen in her clinics, the CDC reports that of the roughly 20 million new STI cases diagnosed each year, fully half involve individuals age 15-24, according to the CDC.
There are a variety of factors that account for this disproportionate concentration of infections among youth — most notably, access to health care.
People under the age of 24 are less likely to go to the doctor.
This may be because their insurance coverage is part of a parent's plan, they are less likely to have the money to pay for treatment, or they are less likely to have access to transportation to and from a clinic.
It may be because they are less likely to be available during times when a clinic is open — often during school hours — and they are more likely to feel shame, embarrassment or fear about being seen at a clinic and maintaining confidentiality.
These rates are even higher among groups of youth who are low-income or who identify as people of color — an indication that these populations face additional and deeper barriers to accessing care.
2) Health care providers can do a better job talking to our patients.
Triplett expressed her belief that while increased coverage from the Affordable Care Act has been beneficial, a lot of work must be done to get folks in the door of a health professional.
As the data on STI rates among adolescents suggest, there are many reasons why teens, as well as other demographic groups, do NOT get tested or treated. There are therefore many things that providers can do to make young people feel more comfortable.
Privacy Matters - First and foremost, providers should stress confidentiality in every single appointment, with every single patient. If a young person fears disclosure of their status, their lifestyle choices or their questions, they will not be honest and they will not receive the care they need.
Patient Interview - The patient interview, when a provider collects any health history and asks questions about various lifestyle practices, should be done before a patient undresses.
Wearing a one-size-fits-all paper gown that displays random slices of your body and never actually covers you fully, can certainly make a person feel vulnerable, and therefore more anxious about discussing personal information.
Don't Make Assumptions - Additionally, health care providers should be very careful not to make assumptions about their patient. For example, just because a young person discloses that she has a male partner does not mean that she is in an exclusive relationship, or that she only dates men.
Providers should ask open-ended questions and be very careful to respond without conveying, either in words or body language, any sort of negative judgment about a patient's behavior.
Offer full explanations - Providers should ensure that all patients, but especially young people, are informed of the screenings offered, as well as how and why they are performed.
For example, when patients understand that they will not need a pelvic exam in order to be tested for STIs, it is possible they will be more open to getting tested.
These visits can feel uncomfortable, embarrassing and even shameful. By offering explanations, providers help to keep patients involved in their own health.
3) Talk and be honest with your health care provider.
Triplett thought it important to emphasize that just as health care professionals have a responsibility to be open, honest and communicative with their patients, we all should strive to return the favor.
There is still a general apprehension around getting tested for STIs. This may be due to many reasons, including a fear of disclosing information to a health care provider, a fear of discovering that you ARE positive for an STI, and a fear of needing to inform sexual partners of your status.
There are many social attitudes that enforce bad behavior, but Triplett wishes her patients would understand that "it's not about getting the STIs, it's about what you do, moving forward."
Moreover, she advises young people to educate themselves.
You should know the symptoms of an STI, its long-term impacts, the treatment options, and certainly how to protect yourself. While she doesn't want to contribute to any stigmatization of contracting an infection, she does want to stress the seriousness of even a common and treatable condition like chlamydia.
Untreated infection can lead to chronic pelvic pain, scarring and even infertility. Effective and complete treatment is very important and needed to prevent re-infection.
4) Human papillomavirus is still the number one STI diagnosed in the United States.
When I asked Triplett if there was any one thing that she wanted people to know about STIs, it was that we should all be better educated on the trends, consequences, prevention and treatment of HPV.
HPV is a virus that can cause genital warts and many different forms of cancer. It is transmitted by having vaginal, anal or oral sex and can be passed from person to person, even if an infected individual shows no symptoms.
Many cases of HPV resolve on their own without any negative health impact, especially if they occur in women under the age of 30, but there is a high chance that the virus may return in a year or two.
A very large number of the women she sees test positive for HPV, but somehow we, the public health community, are reluctant to discuss the issue, possibly because there is no cure for HPV.
While the relatively new vaccination for HPV has made a difference in infection rates, there is still a lot of stigma attached to the immunization. Parents or providers may be reluctant to offer the series to children because they believe it is associated with sexual activity.
Everyone should be aware that the HPV vaccination is intended to prevent cancer. It is the only shot we have right now that does this. And the newer version, Gardasil 9 is used to prevent against most carcinogenic strains of HPV.
This is a huge step toward preventing needless morbidity and mortality in women. At the same time, Triplett stated that "vaccination does not necessarily mean protection."
While the shot prevents most common strains of HPV, there are still others that can cause the disease. Women should also get a regular Pap smear to test for infection, as early detection can literally save lives.
Additionally, using a condom for every sex act is the best way to prevent infection and re-infection.
I could write 18 more articles with the information that Triplett provided during our short conversation, but these were the highlights. Huge thank you to her for taking time to talk!
Bottom line: Get tested, talk about sex honestly/without judgment, educate yourself and take protection seriously. And mayyyybeeee consider sprinkling zithromaycin into the beverages of any young people that you know ...
Reviewed May 9, 2016
by Michele Blacksberg RN
Edited by Jody Smith