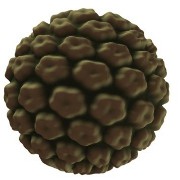 Photo: Getty Images
A question was posted some months ago on EmpowHER which asked if the human papillomavirus (HPV) went away on its own. Almost six months later, there have been over two hundred responses (and further questions) to this post.
This is obviously an important issue to a significant number of people. I would like to clarify the answer for those who have previously posted and those who continue to respond to this question with concern.
Unfortunately the subject has become very confusing in large part because of the language used by medical professionals, both doctors and nurses, when answering this question for their patients. I have previously commented on my blog that I wish the word "clear" would be eliminated from explanation. The word "clear" only functions to add more ambiguity for the patient.
HPV is a virus which after initial transmission to the newly infected individual, sheds its outer coat revealing the viral DNA which then invades the patient's cells and begins a process of multiplying known as replication. Unlike bacteria which remains outside the cells and can be easily identified by the body's immune system, the viral DNA essentially hides within the patient's cells making it difficult for the immune system to recognize and destroy it.
There is no cure for the human papillomavirus neither is there any medication, as there is with the AIDS virus, to prevent replication of the virus. Once becoming infected, the virus will remain in the patient's body. What does happen, is the immune system will keep the virus under control and at levels unrecognized during testing. Essentially, the virus is deemed dormant.
However, the virus can remain dormant within the cells for weeks, months and even years and under the right conditions, can become active again producing symptoms of a new infection evident by dysplasia (abnormal cell changes) otherwise known as precancerous lesions.
While the majority of infections will regress, becoming asymptomatic within two years, twenty to thirty percent of individuals will continue to have persistent infections which can lead to more severe dysplasia and potentially cancer if untreated.
In summary, HPV is an incurable virus and while it may become dormant for considerable periods of time, it continues to remain within the body. Perhaps if patients received this type of explanation instead of being told that it would clear all by itself, there would be less confusion on the subject.
Sources:
What You Need to Know About HPV. A Common But Potentially Dangerous STD.
About.com. AIDS/HIV. Retrieved August 10, 2011 from http://aids.about.com/cs/conditions/a/hpv.htm
HPV Infection in Men. WebMD. Retrieved August 10, 2011 from http://www.webmd.com/sexual-conditions/hpv-genital-warts/hpv-virus-men?page=2
Human Papillomavirus: HPV Information for Clinicians. CDC - STDs - HPV." Centers for Disease Control and Prevention. Retrieved August 10, 2011 from
http://www.cdc.gov/std/hpv/common-clinicians/ClinicianBro-fp.pdf
Reviewed August 10, 2011
by Michele Blacksberg R.N.
Edited by Jody Smith