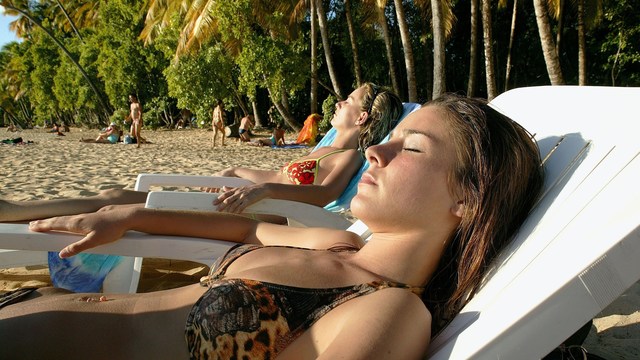 Auremar/PhotoSpin
It's summertime, which means in many places it's time to throw on shorts or a bathing suit and bare more skin to the world than you have in months. For naturally tan or darker women, it might not be a major ordeal. But if you happen to be pasty white, you might be tempted to head to a tanning booth or sit in the sun to get some "color."
Although exposing yourself to ultraviolet radiation through tanning beds or the sun even occasionally is not good for your health according to studies and experts, a couple times probably won't kill you.
But what if you increase that to three times a week, or once a day, or even twice a day? If you are tanning excessively, you might have an unofficial disorder called "tanning addiction."
According to the Skin Cancer Foundation website, tanning is appealing not only for appearances. It has also been found to enhance mood, provide relaxation and socialization for tanners. In fact, UV light in tanning could lead to addictive behaviors.
"UV light has been shown to increase release of opioid- like endorphins, feel-good chemicals that relieve pain and generate feelings of well-being, potentially leading to dependency," according to the website.
Frequent tanners could demonstrate a physical and psychological dependency toward tanning. And they might suffer from other mental health conditions, such as body dysmorphic disorder (BDD) and seasonal affective disorder (SAD), which might initially have led them to tan excessively, according to the Skin Cancer Foundation website.
Dr. Jessica Krant, an assistant clinical professor of dermatology and board-certified dermatologist, said in an email that tanning addiction is a real problem, and it can follow the textbook definition for addiction perfectly:
"Tanning so much that it disrupts other aspects of life, friends and loved ones tell you it's too much but you do it anyway, and you persist even while knowing that you are causing yourself to be very likely to get cancer and faster aging," she said.
She added that although people want to improve their appearance by tanning, in the long run excessive tanning can actually harm your skin and appearance (wrinkles, sun spots, dull-looking skin) and could even lead to skin cancer and infections.
Unfortunately, even if tanning addicts know what they're doing is unhealthy, they might not know how to stop, and if they do try they could have problems with depression and withdrawal as a result, she said.
Krant does have some suggests for weaning off of excessive tanning though.
"I would suggest first starting to spray tan or use self-tanning lotions so you don't feel too pale when you look at yourself, but true tanning addiction affects brain chemistry and really does require awareness of that," she said.
"Starting a new exercise program, finding exciting hobbies that give your brain that pleasure reward, making plans with friends, doing something healthy for yourself or your education. These are all potential tools in the toolbox."
She added that a good first step would be to make an appointment with a dermatologist so they can go over any skin health concerns and treatment options.
Dr. Stanton Peele, the founder of The Life Process Program, and an advisor for the American Psychiatric Association's DSM-IV-TR section on addiction, said in an email that the definition for "tanning addiction" truly relies on how the person with an addiction wants to view it, since they are the ones who will need to be motivated to change.
"We back ourselves into a lot of corners with a phrase like 'true addiction,'" he said. But who is to decide whether gambling addiction is a truer addiction than tanning addiction?
"What if a woman gets skin cancer and yet continue to go to a tanning salon - will her death be persuasive that she was really addicted?" Peele added.
"The definition of a mental disorder, according to DSM-5, is that it causes impairment and distress -that it's hurting the person and at some level they know it (distress) but continue to do it."
Do you think you have a tanning addiction, or know someone who does? Do you think "tanning addiction" is real, or should be considered a mental disorder, or that frequent tanning is just a part of modern society? Share your experiences below in the comments section if you are comfortable.
Sources:
Hornung, Robin and Poorsattar, Solmaz. Skin Cancer Foundation. Tanning Addiction: The New Form of Substance Abuse. Web. June 12, 2013.
http://www.skincancer.org/prevention/tanning/tanning-addiction
Kourosh, Arianne and Jacobe, Heidi. Hooked on Tanning: Why You Shouldn't Start. Web. June 12, 2013.
http://www.skincancer.org/prevention/tanning/hooked-on-tanning
Krant, Jessica. Email interview. June 12, 2013.
http://artofdermatology.com
Peele, Stanton. Email interview. June 11, 2013.
http://lifeprocessprogram.com
Reviewed June 13, 2013
by Michele Blacksberg RN
Edited by Jody Smith