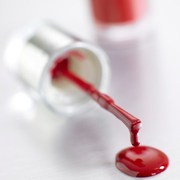 Photo: Getty Images
Facial cosmetics have been known to cause contact dermatitis, but one doesn't typically think about being allergic to nail polish. What is interesting is that often the first sign of being allergic to nail polish is a rash on the eyelids or face, not a rash around the nail. This occurs because the person has inadvertently rubbed their eyes and since the skin on our lids is thin and sensitive, the allergic rash begins there.
What is contact dermatitis?
Contact dermatitis is a skin irritation that occurs from either an allergy or an irritation to a substance that has touched your skin.
An allergic reaction from nail polish can appear as redness, fingertip tenderness and swelling. The development of contact dermatitis on the eyelids from nail polish allergy is considered to be a case of transfer dermatitis, which at first may make it difficult to determine whether the reaction is from eye make-up, a skin cream or from nail polish.
What is in nail polish that causes a reaction?
Nail polish is full of ingredients that act as hardeners, increase flexibility and enhance the shine of the polish. Toluene sulfonamide formaldehyde resin, acrylates, and ethylcyanoacrylate are the most common allergens and a reaction most commonly occurs when the enamel is wet on the nail. (Militello)
Red nail polish reactions
It has been suggested that red nail polish causes nail allergies more often than other colors. Red nail polish does have red dye from D&C Reds No. 6, 7, 34, or 5 Lake and, according to Emedicine, is more likely than other polishes to cause staining that can last several days. However, Emedicine did not report that there are more allergic reactions to red polish.
One additive that some red nail polishes have is carmine, a dye from ground up beetles that has a particularly vivid red color. Carmine has been found to cause contact dermatitis reactions when added to red lipstick and eye shadow. Carmine has been also shown to sometimes cause severe allergic reactions when ingested or breathed. (medscape nurses)
It is possible that carmine, which ironically is used more often in "natural" nail polishes, could be responsible for an additional reaction though my research on red nail polish versus other colors did not show that nail polish color could cause an increased allergic response.
Treatment and Prevention:
There are no real hypoallergenic or natural nail polishes that can be relied upon to not cause a case of contact dermatitis. Dr. Neal Swartz from Derm TV, suggests that one "cautiously and conservatively" try different nail polishes in a trial and error fashion since nail polish ingredients are not usually listed on the bottle. He does not think it is worth seeing a dermatologist for patch testing to try and determine which ingredient is causing the contact dermatitis for this reason.
If you are very sensitive or find that you have increasing sensitivity you might want to just try the polish on one finger and see how your body reacts. If nail polish allergies continue to be a significant problem, then giving up nail polish all together and sticking to just buffing your nails might be the path to take.
sources:
CONTACT DERMATITIS. Asthma and Allergy Foundation of America. Retrieved 20, Nov. 2011.
http://www.aafa.org/display.cfm?id=9&sub=23&cont=329
Common Misconceptions in Contact Dermatitis Counseling 
Rajani Katta MD. 
Dermatology Online Journal 14 (4): 2 . Retrieved 20, Nov. 2011.
http://dermatology.cdlib.org/144/commentary/contact_dermatitis/katta.html
Nail Cosmetics Author: Zoe Diana Draelos, MD. Nail Polish formulations. Retrieved 20, Nov. 2011.
http://emedicine.medscape.com/article/1067468-overview#aw2aab6b3
Militello G. et al. Contact and primary irritant dermatitis of the nail unit diagnosis and treatment. Dermatol Ther. 2007 Jan-Feb;20(1):47-53. Abstract:
http://www.ncbi.nlm.nih.gov/pubmed/17403259
Allergic Contact Dermatitis From Carmine: Discussion. Medscape Nurses. Retrieved 20, Nov. 2011.
http://www.medscape.com/viewarticle/717745_3
How to Deal With Nail Polish Allergies. DERM TV With Dr. Neal Swartz. Accessed 20, Nov. 2011.
http://www.5min.com/Video/How-to-Deal-With-Nail-Polish-Allergies-266798782
Michele is an R.N. freelance writer with a special interest in woman's healthcare and
quality of care issues. Other articles by Michele are at www.helium.com/users/487540/show_articles
Edited by Jody Smith