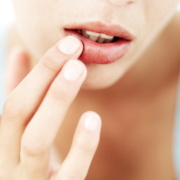 Photo: Getty Images
A friend of mine always seems to have a lip balm in her purse or pocket. She frequently pulls out the tube and smears a few strokes across her lips then she promptly replaces it so it can easily be found later. Some people seem to never be without their lip balm. Is there something in lip balm that makes people constantly want to keep using it?
What is in lip balm?
Lip balm is mostly made up of waxes or oils that have a high melting temperature so they stay solid. ChapStick has methylparaben and propylparaben, lanolin (which comes from an animal source) small amounts of aluminum, sunscreen in varying SPFs and other favorings, depending on which product was purchased. Burt's contains beeswax, cocos nucifera (coconut) oil, helianthus annuus (sunflower) seed oil, mentha piperita (peppermint) oil, lanolin, tocopherol, rosmarinus officinalis (rosemary) leaf extract, glycine soja (soybean oil), and canola oil. At first glance, nothing particularly addictive appears to be in the ingredients.
So why do people keep using it?
Normally, deeper layers of skin produce new cells that replace the older top layers. The top layers of cells lose moisture when they are ready to slough off so they tend to feel dry as there are no oil glands in our lips. Perry Romanowki, a cosmetic chemist who blogs for beautybrains.com recently authored a book called ""Can You Get Hooked on Lip Balm?"
Romanowki stated, "When you put the lip balm on the dry skin, what that does is interfere with the signaling mechanism that signals to the lower cells to start producing more." A person then applies more lip balm. A cycle of applying more lip balm to combat dryness starts which develops into a "psychological habit". (1)
Others think that some of the additives to lip balm products may be a contributing factor. According to Dr. Margaret E. Parsons, a Sacramento, Calif., dermatologist, "Some lip products out there contain products -- like the antiseptic chemical phenol, or even peppermint -- that can act irritants, and can potentially dry your lips out." (1)
Searching forums, it is pretty clear that a number of people state they are "addicted" to lip balm and keep several on hand at all times. There is even a group called Lip Balm Anonymous that has a self-evaluation tool that lists 43 questions to ask yourself to determine if you are addicted to lip balm. At their site they stated "Lip Balm Anonymous is often asked if lip balm is really addictive. We wouldn't be here if it wasn't!"
It is unclear if the overuse of lip balm is truly addictive or just habitual but if you feel you use lip balm excessively, take heart, it appears you are not alone.
Sources:
1. Can you get hooked on lip balm?
http://bodyodd.msnbc.msn.com/_news/2011/02/04/5988460-can-you-get-hooked-on-lip-balm-
2. ''Can You Get Hooked on Lip Balm?''
http://abclocal.go.com/wls/story?section=resources/lifestyle_community&id=7999117
3. Lip Balm Anonymous
www.lipbalmanonymous.com/
www.chapstick.com/faq.aspx
www.burtsbees.com/other/peppermint-products/beeswax-lip-balm-tin.html
Edited by Alison Stanton
Michele is an R.N. freelance writer with a special interest in woman's health care and quality of care issues. Other articles by Michele are at www.helium.com/users/487540/show_articles
Tags: