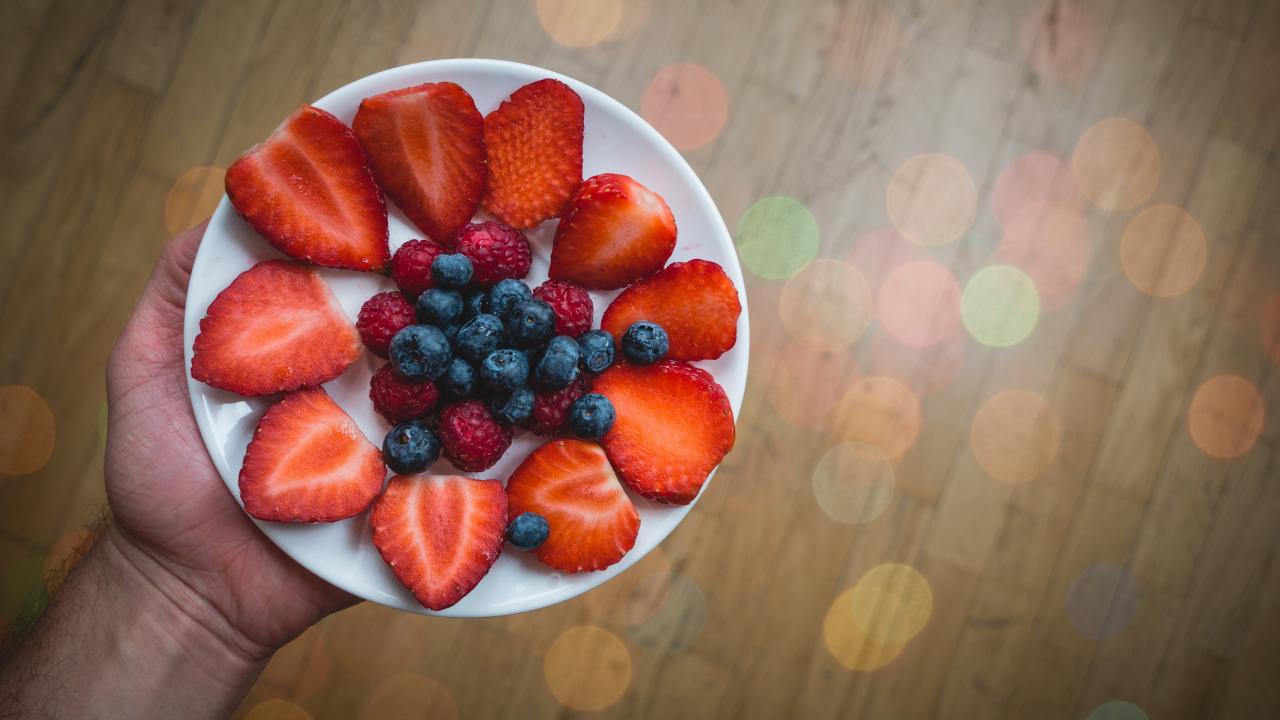 Via FoodiesFeed, edited by Kaitlyn Thompson
Healthy, glowing, beautiful skin is not something that typically just happens. However, that does not mean you have to spend lots of money, use tons of products, or participate in a variety of invasive procedures.
Smooth, supple, soft skin can be created by the food you put in and on your body. Perhaps healthy skin could be as simple as the food you find in the grocery store!
1) Strawberries
This delicious summer fruit is high in vitamin C, even higher than oranges and grapefruit, which are full of terrific anti-aging properties. Studies have shown that people who consume vitamin C have fewer wrinkles and less dry skin than those who don't consume as much Vitamin C.(1)
Vitamin C also helps to prevent cell damage and collagen breakdown (which causes fine lines) by fighting free radicals. Eating strawberries or other vitamin C-rich foods daily can help to create smooth, well-hydrated skin.
Making a natural strawberry facial mask and applying one to two times a week can also help to create the healthy skin you desire.
2) Green tea
Green tea may or may not taste good to some people, but it is certainly good for your skin. It contains antioxidants that help to fight inflammation and redness. Some research shows that green tea may also help to reduce your risk of skin cancer. (1)
Add a dollop of citrus juice to your tea to boost the staying power of the antioxidants and help them remain in your body longer.
But don't think a sip or two of green tea is going to add up to big results. Experts suggest drinking one to three generous cups of green tea will provide optimal benefits.
Don't want to drink it? Chill moist green tea bags and use them to cover your eyes to release the tannins in the tea and reduce puffiness.
3) Pumpkin
Vitamins C, A, and E as well as skin cleansing enzymes can all be found in pumpkin. This vegetable actually gets its orange color from wrinkle-fighting carotenoids, which help to neutralize the skin's free radicals.
Fighting free radicals is important because it is these cell-damaging entities that can cause premature aging. The pulp of the pumpkin contains the antioxidants important to creating healthy skin.
Eating the pulp of the pumpkin not appetizing? Make a pumpkin smoothie for your face using 2 cups of canned pumpkin, 4 tablespoons of low-fat vanilla yogurt, 4 tablespoons of honey, and 1 teaspoon of pumpkin pie spice.
After about 10 minutes your face will feel moisturized and hydrated. The mask will smell good enough to change your mind about not eating it. And you actually can eat it instead of wear it if you want to. Just add 2 tablespoons cream cheese and ½ teaspoon vanilla for delicious and healthy pudding.
Whether you focus on eating strawberries and pumpkin or drinking green tea, there are simple and delicious ways to focus on obtaining clear, healthy skin. Everyone should nourish their skin and care for it from the inside out.
Sources:
1) ABCNews.go.com. Web. "Five foods for healthy skin".
http://abcnews.go.com/Health/Wellness/foods-healthy-skin/story?id=20227415#
2) Fitnessmagazine.com. Web. "Best foods for good skin."
http://www.fitnessmagazine.com/recipes/healthy-eating/superfoods/best-foods-for-good-skin/?page=3
Reviewed December 4, 2014
by Michele Blacksberg RN
Edited by Jody Smith
Read more in Your Ultimate Guide to Beautiful Skin