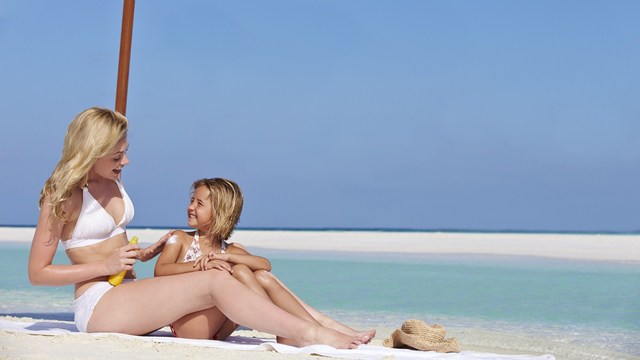 Monkey Business Images/PhotoSpin
Beginning this summer, the Food and Drug Administration's (FDA) new labeling requirements for sunscreens become effective. The new 2013 requirements apply to all products that carry an SPF number (Sun Protection Factor), including sunscreen, makeup and lip balms.
Lydia Velazquez, a Doctor of Pharmacy in FDA's Division of Nonprescription Regulation Development said in a press release that the new regulations were prompted by "increased scientific understanding that not all sunscreen are created equal."
The FDA has been developing testing and labeling requirements for sunscreen products for decades. However, only recently has the data become sufficient to establish an accurate and reliable test for "broad spectrum" UV protection.
"This new information will help consumers know which products offer the best protection from the harmful rays of the sun," Velazquez said.
"It is important for consumers to read the entire label, both front and back, in order to choose the appropriate sunscreen for their needs."
Here's what new:
"Broad spectrum" claims must be backed by testing. The new rules will make it clear to consumers as to whether or not the sunscreen product is "broad spectrum," meaning that the product protects against both UVB and UVA rays.
All sunscreen products protect against UVB rays, the main cause of sunburn. But UVA rays also contribute to skin cancer and premature aging. Now, only products that pass a test can be labeled "broad spectrum."
Low SPFs must include a warning. The FDA now requires sunscreen products with an SPF lower than 15 to include a warning. It reads: "Skin Cancer/Skin Aging Alert: Spending time in the sun increases your risk of skin cancer and early skin aging. This product has been shown only to help prevent sunburn, not skin cancer or early skin aging."
This same warning must appear on sunscreen products that are not broad spectrum.
"Water resistant" does not mean "waterproof." No sunscreens are "waterproof" or "sweatproof" and manufacturers are no longer allowed to claim that they are. If a product's front label makes claims of being water resistant, it must specify how long it lasts while swimming or sweating.
Products can't over-promise. Sunscreens may no longer claim instant protection or protection for more than two hours without reapplying. Product labels can no longer use the term "sunblock."
Sun Safety Tips
Spending time in the sun increases the risk of skin cancer and early skin aging. To reduce this risk, The American Cancer Society recommends everyone regularly use these sun protection measures:
Use a broad spectrum sunscreen with a SPF value of at least 30, and use as directed. Reapply every two hours or after sweating or swimming.
Seek shade. Limit time in the sun, especially between the hours of 10 a.m. and 4 p.m., when the sun's rays are most harmful.
Cover up. When you are out in the sun, wear long sleeve shirts and long pants and a wide-brimmed hat to protect as much skin as possible. Protect your eyes with sunglasses that block at least 99 percent of UV light.
Avoid tanning beds and sun lamps. Both can cause serious long-term skin damage and contribute to skin cancer.
Seriously, sunburns aren't fun and getting just one puts you at greater risk for skin cancer, the most common cancer type with more than 3.5 million diagnosed each year in the United States.
Remember anyone, regardless of your skin color, can get skin cancer. Don't be part of the statistics. Protect you and your family's skin, and enjoy your summer.
Lynette Summerill is an award-winning writer and Scuba enthusiast who lives in San Diego with her husband and two beach loving dogs. In addition to writing about cancer-related issues for EmpowHER, her work has been seen in publications internationally.
Sources:
Consumer Update: FDA Sheds Light on Sunscreens. U.S. Food and Drug Administration. 15 May 2013.
http://www.fda.gov/forconsumers/consumerupdates/ucm258416.htm
How to Read New Sunscreen labels. American Cancer Society.17 June 2013.
http://www.cancer.org/cancer/news/features/how-to-read-the-new-sunscreen-labels
Don't Fry:Preventing Skin Cancer 2013.
http://www.cancer.org/research/infographicgallery/skin-cancer-prevention-text-alternative
Reviewed June 19, 2013
by Michele Blacksberg RN
Edited by Jody Smith
Tags: