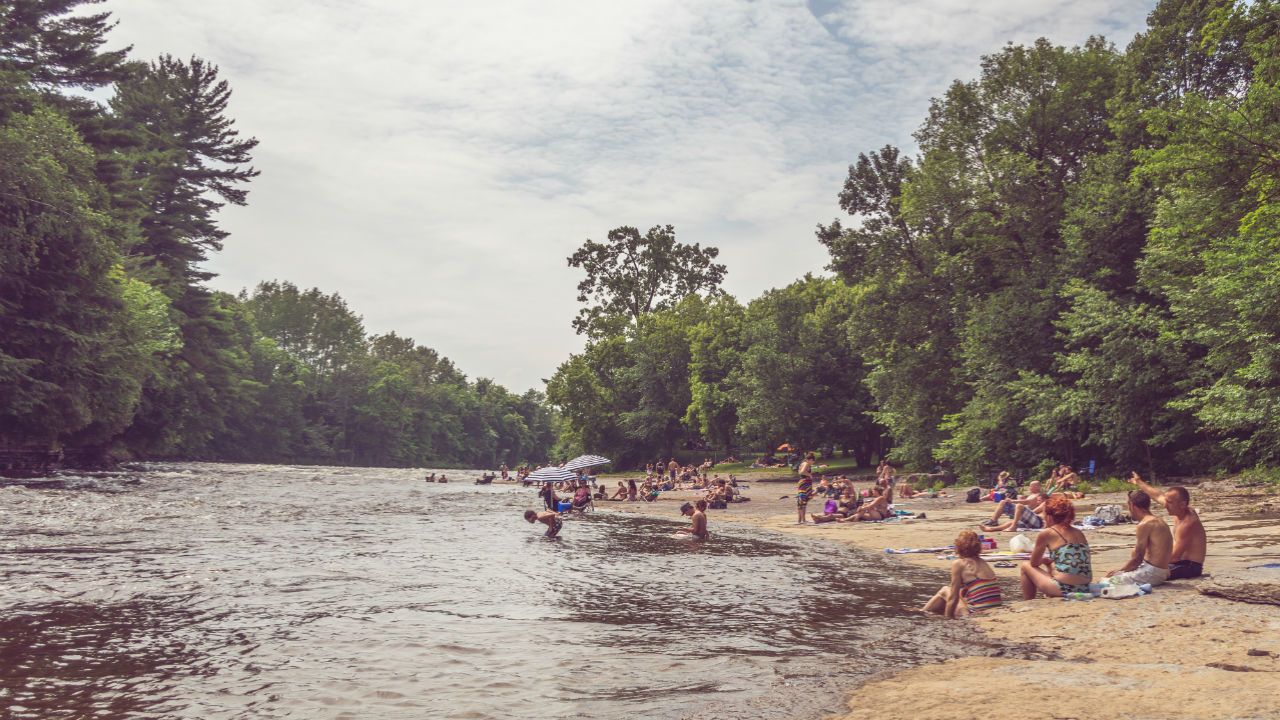 Via Unsplash
Overexposure to the sun can cause skin cancer, wrinkles, dilated blood vessels and changes in skin texture. Basically, it can age you. Sun protection can help reduce these effects.
To understand sun damage, it is essential to break down and understand how your skin is affected by the sun. Your skin has cells called melanocytes, which are stimulated to produce melanin.
Melanin is a complex polymer that determines skin and hair color. Once melanin is exposed to UV light, it oxidizes or turns darker, and the result is a tan and or sunburn.
The darkening of the skin is the skin's way of protecting itself against too much UV light. Sunburn is your body's way of responding to cellular damage caused by UV radiation. Sunscreen works by absorbing and scattering the sun's rays on the skin. The higher the SPF, the greater protection you will get from sunburn.
A good, basic sun protection regimen to follow starts with choosing a sunscreen that is SPF 15 or higher. SPF numbers indicate the length of time one can be exposed to the sun without getting sunburned.
Here are a few technologies available for skin protection this summer:
1) A rather pricey, yet stylish, way to fight against sun exposure, was created by a French woman named Marie Spinali. It's a new-age bikini that tells you when it is time to reapply sun screen.
Spinali worked with French researchers specializing in nanotechnology to design a smaller UV sensor that can be successfully embedded into the bikini.
The consumer will get a two-piece swimsuit with a small detachable ultraviolent sensor that will send sun screen alerts through their smart phone or tablet. The detector is calibrated to the individual's skin type and how much of a tan is desired.
The bikini costs 150 euros, or about $168 dollars.
2) Violet is a clip-on device that pairs with an app to measure and track UV exposure and daily vitamin D production. The device is waterproof, as well as iOS- and Android-compatible. It is ideal for parents, because it allows the user to have multiple profiles on the same device.
The app is about $99 USD and will be available for purchase in August, 2015.
3) SunFriend is a device similar to a watch, with 11 settings which can be customized so the user can determine what amount of sun is appropriate for their skin.
It has a sensor that takes readings of your environment and determines the UV level. It is waterproof and lights up as a warning before your skin burns. To appropriately use this device, expose its face to the sun and make sure it is not covered by any clothing.
SunFriend costs $49.99.
4) JUNE is a wearable device to guide you through sun exposure. It comes in the form of a large jewel that can be worn as a bracelet, brooch or necklace. JUNE is connected to an app that monitors the amount of UV radiation exposure throughout the day.
The device also provides a forecast for the expected UV risk and makes recommendations on what form of sun protection is most appropriate. The user enters their personal information such as skin tone, hair color, eye color, and how easily they may burn or tan. The app produces a daily "sun dose" report.
JUNE retails for $129.
5) sunZapp is similar to JUNE, but it's a more cost-effective app that combines your personal details with local weather data. The app also includes a timer to let you know when to reapply sunscreen.
You can purchase the Pro version for $1.99 or download the free version. The difference between the two is that the Pro version stores your personal details such as skin tone, while the free version does not.
6) The Environmental Protection Agency offers Sunwise UV index, a free app that monitors your sunscreen application.
Sources:
Brown University Health Promotion. Sun Protection. 20 July 2015.
http://www.brown.edu/Student_Services/Health_Services/Health_Education/common_college_health_issues/sun_protection.php
Glamour. Is this the world's smartest bikini? 20 July 2015.
http://www.glamour.com/fashion/blogs/dressed/2015/06/bikini-sun-sensor
Hindustan Times. Worried about beach tan? New bikini tells you when to apply sunscreen. 20 July 2015.
http://www.hindustantimes.com/fashion/worried-about-beach-tan-new-bikini-tells-you-when-to-apply-sun-screen/article1-1358193.aspx
June. Experience the future of beauty. 20 July 2015.
https://www.junebynetatmo.com/en-US/site
Latino Spot. Need sun protection, there's an app for that. 20 July 2015.
http://www.latinospost.com/articles/64468/20150616/need-sun-protection-there-s-an-app-for-that.htm
Medtech Boston. Using tech to help protect your skin from the sun. 30 July 2015.
https://medtechboston.medstro.com/using-tech-to-help-protect-your-skin-from-the-sun
Motherboard. These smart bikinis detect UV rays to stop you turning lobster-red. 20 July 2015.
http://motherboard.vice.com/read/these-smart-bikinis-detect-uv-rays-to-stop-you-turning-lobster-red
Reviewed July 31, 2015
by Michele Blacksberg RN
Edited by Jody Smith