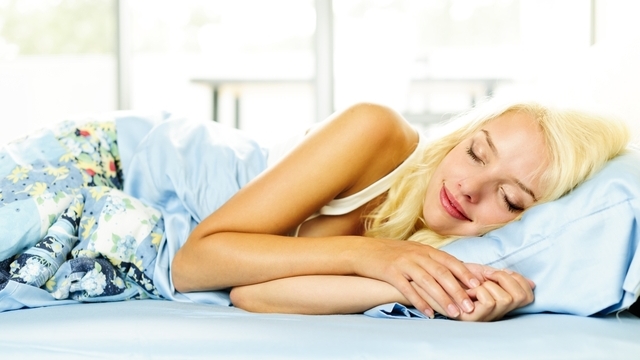 Elena Elisseeva/PhotoSpin
How do you feel at 8:00 each day, in the morning and in the evening? These used to be really unpleasant times for me. I would be groggy when the sun rose and sluggish when the sun went down. And I would struggle to relax—contending with hot flashes, joint pain and restlessness during the twilight hours in between.
I am an ambitious person. Like most of you, I am juggling work, volunteering and spending time with loved ones. And I always strive to make a positive impact through what I do. But I also know that if I don't take care of myself, then I can't be a source of support to others.
That's why I came up with these healthy nighttime habits to help make sure I wake up empowered for the day. I think you deserve these too!
1. Maintain an evening routine to unwind and disconnect
When bedtime rolls around, my mind is usually still active with ideas and thinking of my long to-do list. At the end of every night, I always brush my teeth, wash my face, smooth some of my fabulous skin cream on my face, slip into a luxurious pair of pajamas and crawl into bed. This nightly routine helps lull me into relaxation mode. I am a major advocate for leaving electronics outside the bedroom—yes, smartphones and everything. But, if I still feel overly energized, I'll flip on an audio book and set the sleep timer for about 30 minutes to help distract me until I drift into a deep slumber.
2. Keep your sleep environment cool, comfortable and quiet
Just like Goldilocks, you want your bed (and bedroom) to be just right. Your sleep will suffer if you're too hot, too cold, too dry, too humid, noisy or bright. I keep the temperature in my room between 68–69 degrees Fahrenheit; and a cool vaporizer helps to humidify the dry, desert air. Plus, I had the good fortune of meeting Massimo Losio about a year ago—he introduced me to Technogel, and I now enjoy uninterrupted sleep unlike ever before. My Estasi mattress is like sleeping on a cloud, it helps to keep me cool throughout the night, and I wake up feeling fabulous.

3. Invest in proper accessories
Having a serene bedroom and properly supportive mattress are critical to a good night's rest. But, don't skimp on the accessories! Invest in a high quality set of sheets. I stick with genuine cotton, which is crisp and feels great against the skin. Plus, it's breathable and helps to enhance the cool feel of my Technogel mattress. Last but not least, it's important to find a pillow that is suited to your body and sleep habits. I treasure my face pillow that helps prevent wrinkles and truly helps me get my beauty sleep. I also tote my soft, fluffy Duxiana pillow with me when I travel. Technogel offers a selection of pillows with cooling gel as well. Whichever pillow you decide to sleep on, don't pinch pennies, choose one that properly supports your head and neck so you can get the sleep that you deserve!
Click here to learn more about Technogel products.
Tags: