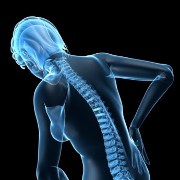 Photo: Getty Images
What is a Spinal Compression Fracture?
A spinal compression fracture is relatively common in elderly adults. These fractures are usually the result of osteoporosis and happen "when the weight of the upper body exceeds the ability of the bone within the [spine] to support the load." (UCLA) Astonishingly, "up to 30 percent of compression fractures occur ... in bed." (UCLA)
While varying in severity from person to person, severe compression fractures cause significant pain and usually prevent sufferers from performing normal daily activities.
Facts about Spinal Compression Fractures
According to American Association of Family Physicians:
• Spinal compression fractures affect approximately 25 percent of all postmenopausal women in the United States
• Approximately 40 percent of women over the age of 80 have spinal compression fractures
• Women with spinal compression fractures have a 15 percent higher mortality rate than those without
• With the growth of the over-65 segment of the population, incidence of spinal compression fractures is expected to increase
• Spinal compression fractures negatively affect the quality of life of patients
• Acute and chronic pain in elderly patients is commonly attributed to spinal compression fractures, which can often lead to other disabilities
• Psychosocial and emotional issues can affect a person with spinal compression fracture because of the loss of independence
Symptoms and Treatments of Spinal Compression Fracture
Symptoms of spinal compression fracture can include:
• Sudden onset of acute back pain
• Worsening of pain with standing or walking
• Lessening of pain when lying down
• Difficulty and pain with bending or twisting
• Loss of height
• Curved spine
• Pain associated with slight back strain during everyday activities such as lifting a bag of groceries, lifting a suitcase or corner of a mattress, bending over to tie shoes or pick something up
Because compression fractures are "impacted"by nature, they are normally stable so treatment is typically conservative without surgery, including bed rest, avoidance of prolonged activity, medications for pain management, muscle relaxants, back-braces and physical therapy. Surgery to reinforce the fractured vertebra may be indicated for patients who do not respond to conservative treatment.
"Most patients can make a full recovery or at least significant improvements from their compression fracture after six to 12 weeks, and can return to a normal exercise program after the fracture has fully healed. A well-balanced diet, regular exercise program, calcium and vitamin D supplements, smoking cessation, and medication to treat osteoporosis ... may help prevent additional compression fractures ... diagnosing and treating osteoporosis does indeed reduce the incidence of compression fractures." (American Association of Family Physicians)
Sources:
Symptoms of a Spinal Compression Fracture. WebMD. Web. Nov 17, 2011. http://www.webmd.com/osteoporosis/guide/spinal-compression-fractures-symptoms
"Vertebral Compression Fractures in the Elderly" by Jerry L. Old, M.D., & Michelle Calvert, M.D., University of Kansas School of Medicine, Kansas City & Wichita, Kansas. American Association of Family Physicians. Am Fam Physician. 2004 Jan 1;69(1):111-116. Web. Nov 17, 2011. http://www.aafp.org/afp/2004/0101/p111.html
Spinal Compression Fractures. UCLA Spine Center. Web. Nov 17, 2011. http://spinecenter.ucla.edu/body.cfm?xyzpdqabc=0&id=32&ref=28&oTopID=35&action=detail
Reviewed November 17, 2011
by Michele Blacksberg RN
Edited by Malu Banuelos
Tags: