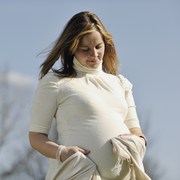 Benis Arapovic/PhotoSpin
Being a mother can bring numerous mental and physical health benefits, but a new study shows that if mothers have chronic stress during pregnancy, any mental health benefits associated with motherhood are lost.
The research at Ohio State University was conducted using rats. Researchers found that unstressed rat mothers had improved cognitive functioning compared to non-mothers.
Stressed rats on the other hand had no cognitive benefits over non-mothers, according to a university news release. Stressed mother rats also exhibited symptoms of postpartum depression.
Researchers hope the study results and future research can help them understand postpartum depression better, since chronic stress during pregnancy is thought to be a major risk factor for postpartum depression.
Mental health experts and mothers have tips for how moms can avoid chronic stress during pregnancy, therefore receiving the best mental health benefits from motherhood.
Laura Wellington, a mother of a healthy two-and-a-half-year-old boy said in an email that she experienced chronic stress during her pregnancy due to complications of an unsuccessful marriage.
"Keeping up my exercise regime helped, and sleeping in late morning when I could also helped," Wellington said.
Olivia Bergeron, a clinical social worker in New York, said in an email that there can be multiple causes of chronic stress. These can include marriage issues, unsupportive significant others and work and financial problems.
"Chronic stress during pregnancy may result in depression, and depression during pregnancy is a risk factor for postpartum depression," Bergeron said.
"PPD can be devastating to new mothers and may inhibit bonding with the new baby."
Some signs of chronic stress during pregnancy include rumination, sleep problems, low resistance to disease, gastrointestinal complications like stomachaches, panic attacks, chills, abnormal heart beats and numbness, she said.
Pregnant women with chronic stress should turn to their support system for help, as well as professional resources like OB-GYNs, doulas, midwives and even new mother support groups, she added.
"I advise my clients to seek out stress relieving activities such as prenatal yoga (also a great way to meet other new moms-to-be) and taking walks," Bergeron said.
"A morning walk with your spouse can be a great way to connect and gives time for the couple to talk about concerns and worries about the big changes ahead."
She also suggested practicing mindfulness activities, such as meditation and prayer. Planning ahead for different pregnancy and motherhood outcomes is helpful, but mothers also need to make time for themselves every day.
Sara Chana, a board certified lactation consultant and mother of seven children, said in an email that she has helped over 5,000 mothers and children during her career.
"Find me a pregnant woman without stress and I would be shocked," Chana said.
"I do believe that women are not supported properly during their pregnancy."
She said that she has noticed three common causes of stress during pregnancy:
1) "Lack of knowledge of what is 'normal' during pregnancy."
2) "Not enough physical support like massage, and pleasure walking."
3) "Toddlers at home without help like grandparents around like in the 'olden-days.'"
Additional ways that mothers can reduce their stress during pregnancy include eating non-processed food and possibly trying medicinal herbs used to strengthen and calm, she added.
Gretchen Martens, the founder and CEO of Homeward Deployed (a transition coaching program for military families), spoke in an email about some additional stressors for pregnant women.
These could include the deployment of a significant other, taking care of a soldier returned from war, and even coping with a future deployment right after the baby is born.
Other stressors include being in college, loss of a loved one, homelessness and unemployment.
Martens said that she has overcome chronic stress during her pregnancies. She suffered from severe carpal tunnel syndrome and was unable to receive treatment during pregnancy.
The pain of her condition prevented her from sleeping and eating oftentimes. Her husband suffered from depression, and she became depressed and cried often during her pregnancy. She was embarrassed so she didn't ask for help.
"From my own experience, chronic stress makes you less able to cope with the effects of pregnancy, especially a problematic pregnancy," Martens added.
Learning from her experiences, she suggested taking time to care for oneself, not being afraid to say 'no,' and removing certain responsibilities to avoid stress. She advises pregnant women to put themselves first, engaging in therapy or coaching, and finding other support resources besides family and friends.
Sources:
Ohio State University. Chronic Stress During Pregnancy Prevents Brain Benefits of Motherhood, Study Shows. Web. Oct. 24, 2012.
http://researchnews.osu.edu/archive/pregstress.htm
Wellington, Laura. Email interview. Oct. 24, 2012.
Bergeron, Olivia. Email interview. Oct. 24, 2012.
Chana, Sara. Email interview. Oct. 24, 2012.
Martens, Gretchen. Email interview. Oct. 24, 2012.
Reviewed October 25, 2012
by Michele Blacksberg RN
Edited by Jody Smith