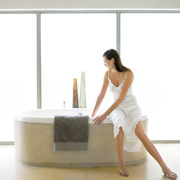 George Doyle/Stockbyte/Thinkstock
No one sets out to get a sunburn when they go out for a fun day in the sun. However, it is easy to forget to reapply that sunscreen or to misjudge how intense the sun's rays are in the middle of the day.
The damage caused by a sunburn cannot be undone but there are ways to soothe a burn and help it heal.
1. Act quickly
As soon as you get a sense of tingling or see pinkness in your skin or your child's, get out of the sun and stay out. It can take four to six hours for symptoms of a burn to fully develop, so don't take chances that a mild burn will stay that way.
2. Bathe
Take a shower or bath with cool water but do not stay in the water for longer than 15 to 20 minutes to avoid drying out your skin. Alternatively, apply cool compresses.
Some people have tried adding baking soda or Aveeno to their bath or onto the compress cloth for a soothing remedy. Avoid using bubble bath, bath salts or fragrant oils.
3. Moisturize
After a shower, make sure to slather on moisturizer to soothe your skin. A product that contains vitamin E or C may help (though not proven in studies). You can even chill the moisturizer in the fridge before you apply it for a bit more cooling relief.
4. Hydrate
Drink a number of glasses of water or sports drink to rehydrate the fluid lost from your skin due to the burn. This is particularly important for children. Keep drinking until your urine appears light in color and clear.
5. Aloe vera
The gel from the leaves of an aloe vera plant are thought to have anti-inflammatory benefits and soothe a sunburn. Cut open a leaf and apply the gel several times a day to the burn.
6. Vinegar
Topical white plain vinegar, either used as a compress or sprayed diluted by half with water is thought to relieve sunburn pain, though no studies have been done to support this belief.
7. Medicate
NSAIDs (nonsteroidal anti-inflammatories) can reduce swelling and pain. Taking acetaminophen will just help ease the pain of a burn. Avoid these medications if you have been told by your doctor not to take them.
To prevent sunburn:
Be especially careful to protect your newly-burned skin from the sun. Keep it covered, wear a hat, try to avoid sun exposure between 10 a.m. and 4 p.m. and wear sunscreen with an SPF above 30.
It is also important to monitor any large areas of blistered skin. Watch for fever or a general feeling of un-wellness to determine if there is a need to see a doctor.
Sources:
Natural Remedies for Sunburn By Cathy Wong, About.com. updated July 24, 2007. Retrieved June 15, 2012.
http://altmedicine.about.com/od/aznaturalremedyindex/a/sunburn.htm
Five Ways to Treat a Sunburn. Skin Cancer.org. Retrieved June 15, 2012.
http://www.skincancer.org/prevention/sunburn/five-ways-to-treat-a-sunburn
10 Home Remedies for Sunburn. Discovery. Fit & Health. Retrieved June 15, 2012.
http://health.howstuffworks.com/skin-care/beauty/sun-care/10-home-remedi...
Michele is an R.N. freelance writer with a special interest in woman's healthcare and quality of care issues. Other articles by Michele are at www.helium.com/users/487540/show_articles/
Edited by Jody Smith