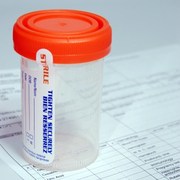 iStockphoto/Thinkstock
Having a urinary tract infection can be an unpleasant experience for individuals. The infection occurs when bacteria enters the urethra, where it can infect the bladder, kidneys and ureters.
Bacteria such as Escherichia coli (E. coli), Chlamydia and Mycoplasma may cause a urinary tract infection. Symptoms depend on the location of the infection, but may include cloudy urine, burning or pain when urinating, and urinary urgency.
To diagnose a urinary tract infection, the health care professional may order a urinalysis and urine culture. The urinalysis and urine culture both involve getting a sample of the individual's urine.
The laboratory work on the sample for the urinalysis will look at the urine's physical appearance and color, as well as its chemical and microscopic appearance. The sample for the urine culture is also taken to a lab, in which the sample will be examined for the presence of either yeast or bacteria.
If a person has recurrent urinary tract infections, the health care provider may order other tests to rule out other possible causes. Examples of additional tests that may be ordered include a CT scan, voiding cystourethrogram, kidney scan and kidney ultrasound.
The treatment for a urinary tract infection will depend on how severe the infection is. If the individual is diagnosed with a simple urinary tract infection, she will take an antibiotic.
Examples include levofloxacin, amoxicillin and ciprofloxacin. MedlinePlus noted that women will take antibiotics for three days, while men will take antibiotics for 7 to 14 days.
If the individual has more frequent urinary tract infections, her health care professional may recommend that she take either antibiotics over a longer period or have short courses of treatment at the beginning of the infection.
The MayoClinic.com noted that if an individual develops urinary tract infections after sexual intercourse, her health care professional may recommend that she takes one dose of an antibiotic after activity.
With severe urinary tract infections, more intensive intervention is required. In these cases, the individual may be hospitalized and receive her antibiotics and fluids intravenously.
The National Kidney and Urologic Diseases Information Clearinghouse stated that individuals with a kidney infection may be on antibiotic treatment for several weeks.
References
MedlinePlus Medical Encyclopedia. Urinalysis. Web. 28 May 2012
http://www.nlm.nih.gov/medlineplus/ency/article/003579.htm
MedlinePlus Medical Encyclopedia. Urine Culture. Web. 28 May 2012
http://www.nlm.nih.gov/medlineplus/ency/article/003751.htm
National Kidney and Urologic Diseases Information Clearinghouse. Urinary Tract Infections in Adults. Web. 28 May 2012
http://kidney.niddk.nih.gov/Kudiseases/pubs/utiadult
MedlinePlus Medical Encyclopedia. Urinary Tract Infection – Adults. Web. 28 May 2012
http://www.nlm.nih.gov/medlineplus/ency/article/000521.htm
MayoClinic.com. Urinary Tract Infection. Web. 28 May 2012
http://www.mayoclinic.com/health/urinary-tract-infection/DS00286/METHOD=print
American Academy of Family Physicians. Urinary Tract Infections. Web. 28 May 2012
http://familydoctor.org/familydoctor/en/diseases-conditions/urinary-tract-infections.printerview.all.html
Reviewed May 28, 2012
by Michele Blacksberg RN
Edited by Jody Smith