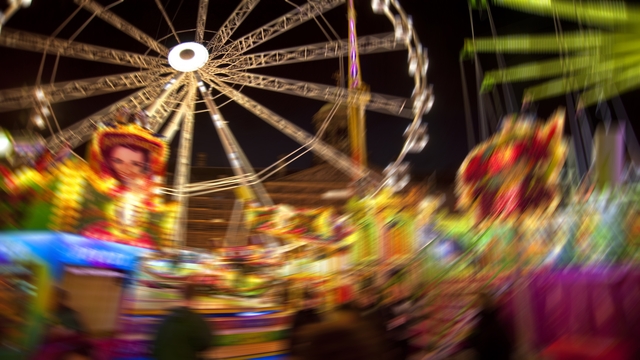 Knut Niehus/PhotoSpin
"Vertigo" is a film by Alfred Hitchcock but it doesn't refer to the fear of heights as the movie would suggest. While people often confuse fear of heights (acrophobia), dizziness and vertigo, the three are very different.
Vertigo can be caused by a problem with the balance mechanisms of the inner ear, a problem with the brain, or a problem with the nerves that connect the brain to the middle ear.
Another cause of vertigo is labyrinthitis, or an inflammation of the system of canals and cavities within the inner ear. These cavaties and canals contribute to our sense of balance. This condition can be caused by an infection. Even cold and flu can spread to this area, causing many issues including vertigo.
Vertigo is a sensation that everything around you is spinning or moving, which is usually caused by a problem in the inner ear, but can also be caused by vision problems. People with vertigo commonly feel things are moving when they are standing completely still and everything around them is still.
While the terms may often be used interchangeably, vertigo and dizziness are not the same thing. In the medical community, vertigo is taken a bit more seriously as it could indicate more serious underlying health or medical issues. Dizziness is usually shorter in duration and related to a momentary situation while vertigo can have tangible meaning as it relates to your balance, equilibrium and even your brain.
Symptoms of vertigo are either subjective -- that is, you feel that you are spinning around, or objective -- which is when the world feels as if it is spinning.(Remember when you were a child and would spin around in circles and then suddenly stop? This is a sensation of objective vertigo ... )
Since everyone is so different, and particularly since the causes of vertigo can be so varied, an experience of vertigo has no set time limit. One person may experience vertigo for an hour while at another time, or in a different situation, it lasts up to a day or even longer.
Some common symptoms of vertigo may include:
Nausea
Vomiting
Blurred vision
Earache
Loss of balance
Light-headedness
Problems walking properly
Problems standing still properly
Vertigo is not always easily diagnosed or understood. It is one of those conditions which may stem from a number of other, related conditions or, in rarer instances, the cause may be completely unknown. Some places doctors look to begin with are related to the brain, the inner ear and the nerves which connect the middle ear to the brain. It can also even be related to vision problems. As with all conditions, please have a thorough physical exam if you are experiencing any of the symptoms of vertigo, and mention anything to your doctor which may help determine the cause.
Sources:
What Is Vertigo? What Causes Vertigo?
Editor's Choice
Main Category: Ear, Nose and Throat
Also Included In: Neurology / Neuroscience
Article Date: 18 Aug 2009 - 0:00 PDT
http://www.medicalnewstoday.com/articles/160900.php
Causes of Vertigo
Remedies Health Community.com
http://www.healthcommunities.com/vertigo/causes.shtml
Dizziness, Vertigo, and Imbalance
Author: Hesham M Samy, MD, PhD; Chief Editor: Robert A Egan, MD
http://emedicine.medscape.com/article/1159385-overview
Aimee Boyle lives in Southern CT. She is a regular contributor to EmpowHER.
Reviewed September 1, 2011
by Michele Blacksberg R.N.
Edited by Jody Smith
Tags: