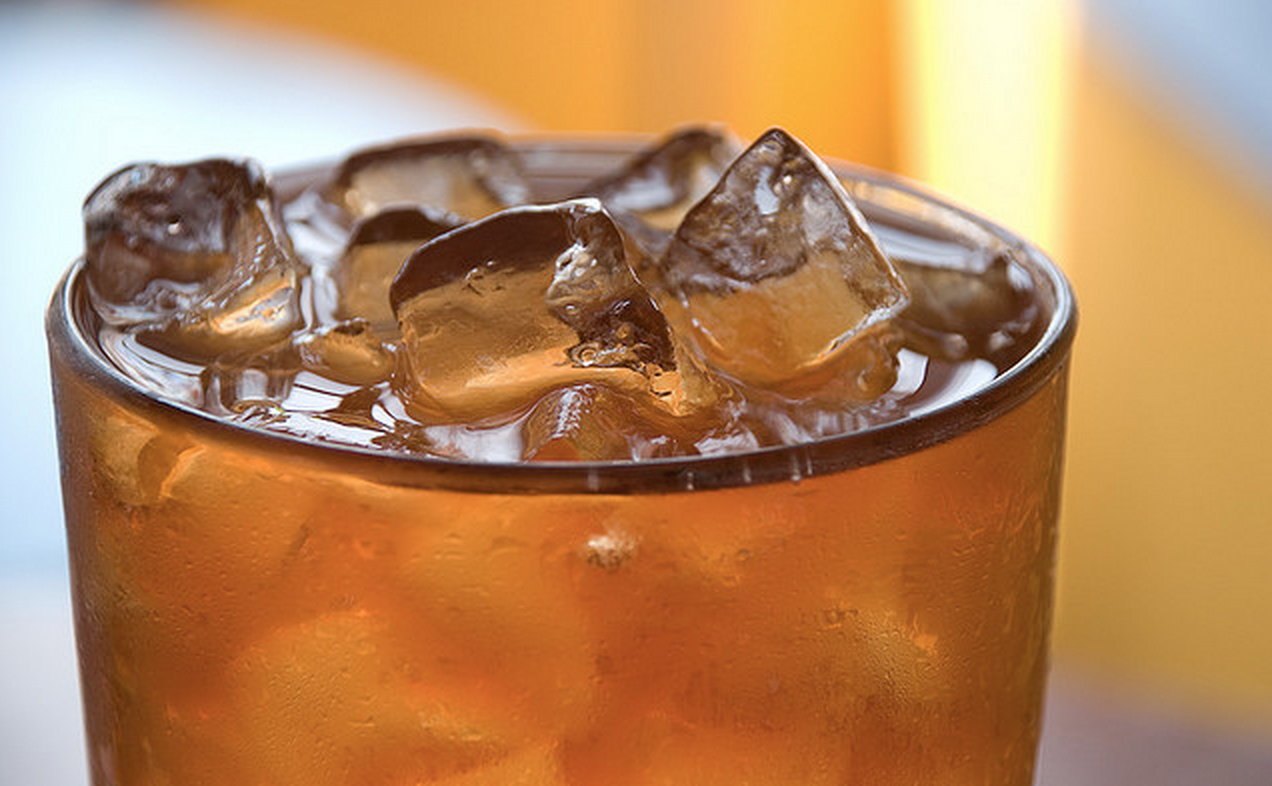 Pen Waggener/Flickr
Summer is in full swing and that has the temperatures rising daily. If you live in areas like Phoenix or Vegas metro areas you know the furnace is just warming up. The next couple months will be brutally HOT!
With that in mind it's important to stay hydrated. The heat will drain the moisture right out of your body, putting you at risk for heatstroke if you don't stay on top of your fluids.
While all liquids count in fluid consumption, they're not all created equal. Make sure to avoid sugary beverages, as they can actually worsen heat-related issues, not to mention, ruin your complexion. Leave drinks whose colors come from artificial food dyes alone, as well.
Get the most flavor and benefits out of your frosty drinks by making a variety of iced teas that are not only delicious, but have amazing health benefits. The key when making these teas is to make them double strength, as they will dilute when poured over ice.
Mint
When iced, mint tea can have an instant cooling effect on the body. In addition to imparting a delicious flavor and refreshing sensation, mint can help reduce allergies, nausea and cold symptoms.
Mint tea is easy to find at nearly any grocer, but it can also be made from fresh mint sprigs, as well. When using fresh sprigs, note that they will turn brown or black after a bit in the hot water.
Lemon Grass
You'll see the words "lemon grass" appear on the labels of many teas and other health products. It's known for helping with digestive issues, blood pressure, achy joints, fever, and even the common cold. It's also a great antibacterial.
Spending a lot of time cooped up indoors to avoid the summer heat actually contributes to getting viral and bacterial infections. Added to that, the air conditioning is blowing everyone's germs around at work and home. You'll see it's not so weird that people catch colds in the summer.
Look for teas that have lemon grass as part of the mix, or drink it as a stand-alone tea. Lemon grass is cool, refreshing, and pairs well with citrus and mints.
Hibiscus
Hibiscus tea is a tangy treat that comes loaded with health benefits. In addition to keeping you hydrated, this brilliant red tea can keep you looking slim and feeling at ease on these hot summer days. Hibiscus is known for lowering blood pressure, easing nerve issues, and decreasing water retention. It even works as a mild laxative.
Raspberry Leaf
As mentioned in this EmpowHER article , raspberry leaf tea is great for the female reproductive system. It can help alleviate cramps, decrease periods (both in duration and intensity) and strengthen the uterine lining to prepare for pregnancy. Not recommended for women to consume during pregnancy.
While the list of health benefits of raspberry leaf tea goes on, the flavor stops short of awesome. It tastes a lot like diluted green tea. Boring! Kick it up a knock by steeping it with an all-natural fruit or herbal tea. It pairs well with raspberry and other berry teas, but watch for added sugar on the labels.
Chamomile
Chamomile is well-known for making people sleepy. What's not as well-known is that chamomile helps with anxiety, digestion, improving the immune system and easing menstrual cramps! An iced glass of chamomile as you wind down for the evening can be amazing. Over time, you can start to see the real health benefits. Regular digestion is just one of these. When the weather cools, this is a great tea to keep making — but hot.
The key thing to keep in mind is that if you're allergic to daisies, you cannot have chamomile tea. Chamomile is a type of daisy.
Ginger
Ginger is most widely known for its stomach-soothing properties, but there is so much more to this amazing root. Ginger has been found to ward off both bacterial and viral infections. Ginger also reduces oxidative stress and chronic inflammation.
To make a cup of ginger tea, slice ginger root about the thickness of a quarter. Add three to five slices (depending on the level of kick you want) to 8 ounces of boiling water. Allow to steep for five to 10 minutes. Remove root and ice your tea.
All six of these teas offer unique flavors and health benefits. They also provide caffeine-free alternatives to black and green iced teas.
Summer is hot. Stay cool, hydrated and healthy, friends.
Sources:
Mint: Health Benefits, Uses and Risks. Accessed July 7th, 2015.
http://www.medicalnewstoday.com/articles/275944.php
Raspberry Leaf Tea. July 23, 2015. WebMD.
http://www.webmd.com/vitamins-supplements/ingredientmono-309-red%20raspb...
Chamomile Tea. July 23, 2015. Tea Talk. www.theteatalk.com/chamomile-tea-benefits.html
Ginger components as new leads for the design and development of novel multi-targeted anti-Alzheimer's drugs: a computational investigation. Published October 2014. Pubmed.com
http://www.ncbi.nlm.nih.gov/pmc/articles/PMC4211852
Inhibitory effect of Allium sativum and Zingiber officinale extracts on clinically important drug resistant pathogenic bacteria. Published April 2012. Pubmed.com.
http://www.ncbi.nlm.nih.gov/pmc/articles/PMC3418209
Fresh ginger (Zingiber officinale) has anti-viral activity against human respiratory syncytial virus in human respiratory tract cell lines. Published January 2013. Pubmed.com.
http://www.ncbi.nlm.nih.gov/pubmed/23123794
Reviewed July 24, 2015
by Michele Blacksberg RN
Edited by Jody Smith