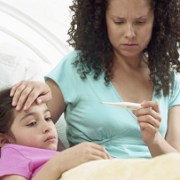 Photo: Getty Images
Now that the calendar has officially flipped to fall, families around the country need to remember that is this flu season. The weather is getting cooler in most places in the country, and kids will be getting sick and bringing that sickness home to their moms, dads and siblings.
According to the website for the Centers for Disease Control (CDC), "each year an average of 20,000 children under the age of 5 are hospitalized because of flu-related complications. Influenza causes more hospitalizations among young children than any other vaccine-preventable disease. The single best way to protect against seasonal flu and its potential severe complications is for children to get a seasonal influenza vaccine each year. Flu vaccination is recommended for all children aged 6 months and older."
The CDC urges parents and school officials to make preventing the flu a priority. By making healthy choices, both at school and at home, the flu can be prevented and stopped in its tracks -- outside of your home.
The CDC gives these guidelines to parents to keep kids healthy. They ask children to:
• Cover their nose and mouth with a tissue when they cough or sneeze. Have them throw the tissue away after they use it.
• Wash their hands often, with soap and water, especially after they cough or sneeze. If water is not near, use an alcohol-based hand rub.
• Avoid touching their eyes, nose and mouth. Germs spread this way.
For parents who think the flu or colds are nothing to worry about, think again. The CDC says the "flu is more dangerous than the common cold for children. Each year, flu places a large burden on the health and well-being of children and families. An influenza vaccination is the best method for preventing flu and its potentially severe complications in children."
With proper prevention, parents can protect their children (and themselves) from a miserable flu season. Simple actions can go a long way!
Sources:
Center for Disease Control, "Seasonal Flu Information for Schools & Childcare Providers". Web. 26, September, 2011.
http://www.cdc.gov/flu/school
Center for Disease Control, "Flu Information for Parents". Web. 26, September, 2011. http://www.cdc.gov/flu/parents
Edited by Jody Smith
Tags: