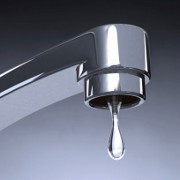 Photo: Getty Images
On Monday, the Environmental Working Group (EWG) released a study which found the cancer causing agent hexavalent chromium, also known as chromium (VI), in the tap water of 31 U.S. cities.
In recent years, hexavalent chromium made headlines after attorney Erin Brockovich represented the cancer stricken residents of Hinkley, California. For over 30 years, the residents had been drinking tap water contaminated with hexavalent chromium.
The Washington Post reported the study is the first of its kind to be made public. The highest concentrations of the carcinogen were found in the cities of Norman, OK; Honolulu, HI; Riverside, CA; Madison, WI and San Jose, CA.
Currently the EPA has not established a maximum contaminant level (MCL) for chromium in drinking water. However, California has proposed, but not enacted, a MCL of 0.1 parts per billion
Industries that increase chromium (VI) concentrations are chemical, leather and textile and electro-painting industries. These applications main increase concentrations of chromium (VI) in water.
According to CBS News, Jane Houlihan, senior vice president of research for EWG, said chromium (VI) has been linked to stomach cancer and leukemia. When it is a compound in leather products, it can cause allergic reactions, such as skin rash. After breathing in chromium (VI), it can cause nose irritations and nose bleeds. Other health problems associated chromium (VI) include:
• Skin rashes
• Upset stomachs and ulcers
• Respiratory problems
• Weakened immune systems
• Kidney and liver damage
• Alteration of genetic material
• Lung cancer
• Death
In 2008, the National Institutes of Health deemed the compound a "probable carcinogen."
EWG estimates that at least 74 million Americans in 42 states are drinking chromium-polluted tap water.
Max Costa an expert in hexavalent chromium at New York University's School of Medicine called the new findings disturbing. "At this point, we should strive to not have any hexavalent chromium in drinking water" or at least limit the amounts to the level proposed by California.
"Our municipal water supplies are in danger all over the U.S.," Brockovich said. "This is a chemical that should be regulated."
Ken Cook, president of the Environmental Working Group, said that water utilities across the country are resistant to the regulation. The full report is available at www.ewg.org .
Consumers can guard themselves against chromium (VI). Houlihan said, ʺWith levels this high, it's critically important that people begin to think about filtering their water."
Inexpensive carbon filters, like the ones in filtration pitchers and tap faucet filtration units, will not remove hexavalent chromium. A reverse-osmosis filtration system which costs hundreds of dollars is a much safer bet.
Bottled water is another option, but all the plastic bottles aren't very good for the environment.
Sources:
http://www.cbsnews.com/8301-504763_162-20026157-10391704.html?tag=cbsnewsSectionsArea%3BcbsnewsSectionsArea.0
http://www.washingtonpost.com/wp-dyn/content/article/2010/12/18/AR2010121802810.html
http://static.ewg.org/reports/2010/chrome6/html/executive-summary.html
http://en.wikipedia.org/wiki/Hexavalent_chromium
http://www.lenntech.com/periodic/elements/cr.htm#ixzz18hh0UyFb