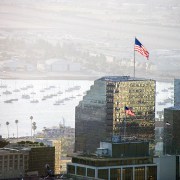 Photo: Getty Images
Over three thousand female bloggers (with a handful of men thrown in) descended upon beautiful San Diego August 4-6, 2011 for the sixth annual BlogHer conference, the largest social media event of the year. Bloggers of every ability, from the complete novice to the superstar expert, came to San Diego to learn, connect and grow in a myriad of ways.
In 2011, the thousands of BlogHer attendees came together from all over the United States and Canada, and some from far-flung places in the world like Australia and Holland. They enjoyed hands-on learning from some of the most respected experts in a variety of topics including Wellness for Bloggers, Owning Your Own Beauty, and even a special needs mini-conference. And of course, there were plenty of parties, food and fun to take advantage of as well.
Bloggers came for varying reasons and got different things out of the conference. Lisa Carpenter of Grandma's Briefs sought out and was able to gain knowledge over the weekend. In a post-BlogHer blog she wrote, "The learning part is mostly what I've yet to wrap my head around. So, so, SO much information. So much good information that should make a difference for my readers, for my blog, and for—maybe down the road if I do things right—my bank account. Yes indeed, the learning was good." Marcela of Culture Mami summed up her BlogHer experience by writing "The trip was amazing yet exhausting. Somehow I managed to run a 5K, hug women all weekend long, watch a movie, attend a yoga class, party, dance, eat (like all the time) and fill my bags with way too much 'stuff'."
Celebrities understand the value of bloggers and so were in attendance in full force. Throughout the weekend, bloggers were able to interact with Bob Harper, Jane Lynch, Giuliana Rancic, Brandi Chastain, Octavia Spencer and Viola Davis (from The Help), Mario Lopez, Ryan Cabrera, Ricki Lake, Amanda Beard, and others both at BlogHer sponsored events and private get togethers.
Bloggers were also able to take advantage of opportunities to meet with the 100 major brand name sponsors assembled in the Exposition Hall, as well as many networking opportunities with other bloggers and companies throughout the weekend. The brands represented at BlogHer understand the importance of an online presence and the credibility bloggers can bring to a product or brand. They know a positive review of a product from a blogger can carry a lot of influence. In fact, a 2011 Social Media Matters Study done by BlogHer found 88 percent of the active blog readers in the total U.S. general population trust the information they get from familiar blogs. They also found that over 50 percent of the active blog readers in the general U.S. online population have made a purchase based on a blog recommendation. (http://www.blogher.com/2011-social-media-matters-study)
The bloggers that made the trip this year, came together with intelligent and vocal voices. They took their sometimes massive, sometimes minimal online communities of women offline and formed connections and relationships to better themselves, their blogs, and even the world. Many memories were made that will last a lifetime or at least until more are made in New York City at BlogHer '12.
Source: 2011 Social Media Matters Study
http://www.blogher.com/2011-social-media-matters-study
Grandma's Briefs
http://www.grandmasbriefs.com/home/2011/8/8/blogher-11-boomers-and-a-bang-up-ending.html
Culture Mami
http://www.culturemami.com/2011/08/blogher-11.html
Edited by Jody Smith