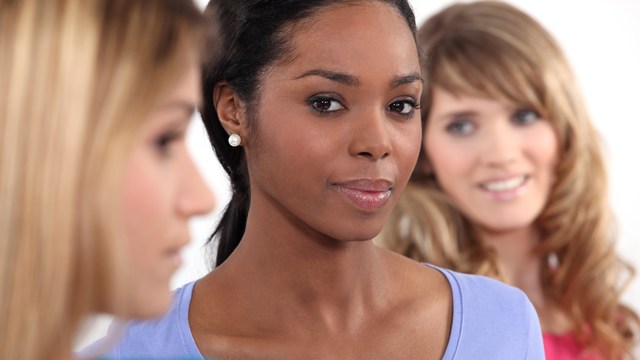 Auremar/PhotoSpin
Are you willing to spend more to get less? When it comes to health care, that's what women have been doing for a while now. Health care costs continue to rise but the life expectancy for women is getting shorter and shorter! In fact, Hilary Clinton said in a recent speech that women today are not living as long as our mothers!
I have to say, my jaw dropped when I heard that statement. A study reported in the Huffington Post confirms it and also shows that the same is not true for men – their life expectancy is getting longer. So why are women on the decline and men not?
I don't have a scientific study to back me up, but I believe there are several factors at work that are dragging women down when it comes to our health.
• Embarrassment – Here on EmpowHER we see so many people who post questions without signing in. Don't get me wrong! That's why we are here. We want to answer your questions and help you find the health info you need whether you want to tell us who you are or not.
But I believe this is a symptom of the embarrassment many people feel when it comes time to talk to the doctor. We don't tell the truth or we don't ask the questions because some subjects are just hard to talk about. Nobody wants to talk about being gassy or constipated or having sexual problems.
I'm here to tell you that's no excuse to jeopardize your health. If you can't bring yourself to ask the question out loud, write it down. You can hand it to the doctor at your appointment or even send it over in advance. That way the doctor can bring up the subject and help you find solutions without you having to be embarrassed.
• Health Ownership – We women don't take ownership of our own health. We justify it in lots of different ways – we're too busy or we put our family first or we just don't want to talk about it. The end result is the same. We are putting our health and wellness into the hands of other people and hoping for the best.
We need to stop letting men step to the front of the health care line. On average, only 37 percent of clinical trial participants today are women. That means most of the drugs and treatments that are available to us were tested on men, not women!
If we're being complacent, we can say that's good enough. But testing on men does not take into account a woman's monthly cycle, or the way a woman's hormones fluctuate day by day all through the month, or any of the other physiological differences between men and women like muscle mass. We need to insist that our doctors stop making assumptions based on men's health and start actually learning more about us. And we need to encourage more women to take part in clinical trials so we can be accurately represented in the research findings.
We also need to stop lying to our doctors. Whether you leave out small details, or forget to mention the herbal supplements you are taking, or you deliberately misstate the number of alcoholic drinks you have in a week, you are undercutting your doctor's ability to take the best care of you. So own up to whatever is going on. If you smoke, say so. Your doctor may not approve, but he or she will appreciate your honesty.
• Expectations– As women, we don't deserve to be ignored. We deserve to have accurate tests for the diseases that affect us, starting with heart disease and cancer. We need to start expecting what we really deserve, not what we are used to receiving.
For example, it is ridiculous that doctors are less likely to warn women about heart disease or to recognize heart attack symptoms in women when heart disease is the number one killer of women. And it is ridiculous that there are no accurate tests for "women's cancers" like cancer of the uterus or breast. As women, we need to demand better ways to diagnose and treat the diseases that are most likely to shorten our lives. And that brings us to...
• Awareness – I believe awareness equals action. Breast cancer research is a perfect example. If you see a pink ribbon, you think of breast cancer. That's because women (and men!) who care – those who lived through breast cancer or who love someone who had breast cancer – stood up and demanded that the rest of us notice the disease. So whatever your concern is – whether it's a disease you had, or one that runs in your family or one you just hope your daughter never has to experience – tell others that it matters.
All of us are too used to going along with the flow. Women's health care is not going to improve as long as we continue to ignore the facts and hope for the best. I believe women are the foundation of the world. We populate it, we feed it, clothe it and nurture it, and we keep the economy growing by creating the most small businesses in the United States.
If we don't care enough about our own well-being to stand up and be heard, we have no reason to expect anything will change. We need to take charge of our own health and we need to make sure the system is working in our favor. Take ownership for yourself by being honest with yourself and your doctor so you can get accurate information and diagnoses. Don't accept bad care as your only option.
You can start by sharing your story here on EmpowHER – whether you choose to sign in or want to be anonymous. You may be surprised by how many others have had a similar experience. Those stories can build together to be the common voice that doctors and researchers will no longer be able to ignore.