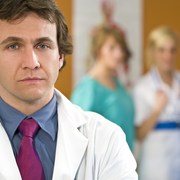 MonkeyBusiness Images/PhotoSpin
Certain doctors have a bad reputation and sometimes it's deserved. Stone-cold bedside manner, delivery of life-altering or shattering news with the same compassion as reading off the weather forecast, and unwilling to listen to a patients' own voices.
Doctors can come across as bullies, pushing their way through their careers with little concern for others.
But of course this isn't all doctors, and in my experience, not even the majority. I fire bad doctors like I'd fire anyone who isn't doing their job properly and I have the luxury to do this due to good health insurance. I know many others don't have this kind of choice.
I recently came across many accounts of medical students and young doctors themselves, being harassed, picked on, bullied and even physically pushed around by no other than their own kind -- doctors who are teaching and testing their younger charges as they navigate their way through school and residencies.
The New York Times ran a story written by Dr. Pauline W. Chen about what many students and residents go through, that their future patients will likely never know.
They are shouted at, belittled before their peers, called names and even pushed by their instructors, who see nothing wrong with their methods of "teaching".
Medical students have admitted they have also been shoved, and have had objects thrown at them for giving a wrong answer or not doing something their instructors had wanted.
Dr. Chen recounted research and surveys that show up to 85 percent of medical students face this bullying, and that is most pronounced in year three of residency.
She herself faced this and recalled doctors name-calling and abusing her class until one student finally shouted back. Dr. Chen appreciated that finally someone stood up to the bully but eventually came to realize that it didn't really work and that the outcome was essentially one doctor screaming at another.
Some medical schools finally began to take note of this kind of behavior and took steps to stop it from happening.