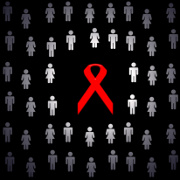 Photo: Getty Images
While most of us are aware of the contagious nature of HIV and AIDS, many of us are not aware of the ways in which it can be spread and the causes of AIDS.
HIV compromises and destroys one's immune system to such a degree that it can no longer fend off the secondary infections caused by AIDS or the virus itself.
It is spread via sexual activity, blood transfusions or any situation in which one person's blood enters the body and bloodstream of another person.
Even though AIDS is not airborn, people are fooled into believing they do not or cannot have it if they are symptom-free and therefore can be carriers of this disease, spreading it from partner to partner without once getting tested.
You can live with and still be in a state of being able to spread the disease for over ten years.
The life cycle of AIDS involves the virus entering a host cell or T-cell by rupturing through the outer membrane. Once inside, HIV uses an enzyme to convert the virus's RNA into DNA and the cells are changed into a type of mechanized reproducer of the viral cells.
Ultimately a host cell is destroyed and, when this happens over and over again, the entire immune system is destroyed.
Since HIV is part of a rare group of retroviruses, it must insidiously cause the cell's DNA to reproduce the virus's RNA in order to get its genetic material inside of cells and kill them.
Each cell death spells danger for the health of one's entire immune system, as this process leaves one weakened and vulnerable to any number of different types of infection which the body is not able to resist.
While there has been speculation that the AIDS virus is not caused by HIV but instead is a genetically modified virus developed in laboratories, or that it somehow comes from outer space, most medical professionals hold fast to the notion that AIDS is a result of HIV and that the compromising of the immune system is the ultimate reason for failed health.
Sources:
Oracle Think Quest
All About Aids
Retrieved from the internet on September 27, 2011
http://library.thinkquest.org/03oct/01335/en/lifecycle.html
WHAT CAUSES AIDS?
It's An Open Question
By Charles A. Thomas Jr., Kary B. Mullis, & Phillip E. Johnson
Reason June 1994
Retrieved from the internet on September 27, 2011
http://www.virusmyth.com/aids/hiv/kmreason.htm
Discovery Fit and Health
AIDS overview by Kevin Bonsor
Retrieved from the internet on September 27, 2011
http://health.howstuffworks.com/diseases-conditions/infectious/aids
Aimee Boyle is a regular contributor to EmpowHER
Reviewed September 28, 2011
by Michele Blacksberg RN
Edited by Jody Smith
Tags: