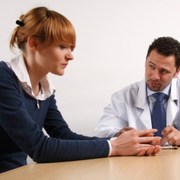 iStockphoto/Thinkstock
The birth control pill has come a long way since its inception. Its convenience and effectiveness continue to improve.
It's even been linked to lower rates of ovarian and endometrial cancer and pelvic inflammatory disease.
When considering oral contraceptives, though, you will want to work closely with your gynecologist on working your way through the maze of available formulas.
Among the many brands out there, you have your choice of low-dose pills, extended-cycle pills, combination pills containing both estrogen and progestin in varying levels, and progestin-only pills.
At the same time, you also want to look closely at the fine print that comes with your prescription. Using oral contraception can mean occasional side effects, including breast tenderness, weight gain and light spotting between periods.
The WomensHealth.gov website, an arm of the U.S. Department of Health and Human Services, addressed the pros and cons of the pill in its "Birth control methods fact sheet."
In a section called "Everyone I know is on the pill. Is it safe?" the website said, "Today's pills have lower doses of hormones than ever before. This has greatly lowered the risk of side effects."
It added that the pros of taking the pill often include lighter periods and greater regularity, along with fewer menstrual cramps. On the other hand, some women need to watch out for serious complications such as high blood pressure, blood clots and heart disease.
Sometimes women complain of stomachaches with use of the pill. Indeed, there are possible side effects involving your digestive system.
Here are a few things you should know:
-- Nausea can occur with use of the pill. Thus, you might need a bit of trial and error to find the nausea relief that works for you. Peppermint tea, ginger ale, a few crackers, a cool compress on your forehead? These are just a few traditional nausea remedies.
WebMD suggested that with a side effect such as nausea you might want to talk with your gynecologist before going off the pill. The nausea might go away within a few months' time.
The website for Planned Parenthood suggested that if nausea and vomiting occur, try taking your daily pill in the evening or at bedtime. You might be better able to handle that queasy feeling if your activities for the day are over or if you can sleep through it.
-- Popular birth control brands containing the progestin called drospirenone have been linked to a higher risk for blood clots, and the Food and Drug Administration has ordered that labeling on these products reflect this risk.
But in regard to the digestive system, those same brands with drospirenone have come under fire for a possible connection to gallstones, gallbladder inflammation and gallstone pancreatitis, or blockage of the pancreas.
Thousands of lawsuits have been filed against the drug manufacturer in regard to blood clots, gallbladder disease and other issues.
-- Crohn's disease and ulcerative colitis are beginning to be studied as possible outcomes of birth control pill use. A researcher presented his preliminary findings at a national gastroenterology conference in May 2012.
Dr. Hamed Khalili from Massachusetts General Hospital in Boston said he found an association between birth control pills and Crohn's disease, a serious inflammation of the intestinal lining, when he studied data from the large U.S. Nurses Health Studies I and II.
"If you took oral contraceptives for more than five years, you have a threefold increased risk of Crohn's disease," he said during a Digestive Disease Week presentation.
Estrogen can change the permeability of the colon, perhaps making it more vulnerable to inflammation, Khalili said.
Hormone-laden birth control pills have a long history of success in family planning. But as with any prescription that you plan on taking for a long period of time, it's good to discuss the side effects with your health care practitioner.
Sources:
Collins, Sonya. "Comparing Birth Control Pill Types." WebMD: Women's Health. Web. 9 July 2012.
http://women.webmd.com/features/comparing-birth-control-pill-types-combi...
"Birth control methods fact sheet." WomensHealth.gov. Web. 9 July 2012.
http://womenshealth.gov/publications/our-publications/fact-sheet/birth-c...
"Birth Control Pills." Planned Parenthood: Health Info & Services. Web. 9 July 2012.
http://www.plannedparenthood.org/health-topics/birth-control/birth-contr...
"FDA's MedWatch Safety Alerts: April 2012." U.S. Food and Drug Administration. Web. 9 July 2012.
http://www.fda.gov/ForConsumers/ConsumerUpdates/ucm304093.htm#3
"Yaz Gallbladder Disease." Drugwatch.com. 9 July 2012.
http://www.drugwatch.com/yaz/gallbladder-disease.php
Doheny, Kathleen. "Birth Control Pills, HRT Tied to Digestive Ills." HealthDay. Web. 9 July 2012.
http://consumer.healthday.com/Article.asp?AID=664939
Reviewed July 10, 2012
by Michele Blacksberg RN
Edited by Jody Smith
Tags: