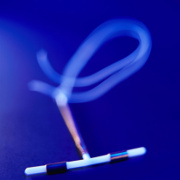 Spike Mafford/Photodisc/Thinkstock
Between 2006 and 2008 in the United States, 99 percent of women who have had sex have used a type of birth control, according to the Centers for Disease Control and Prevention.
Birth control can prevent unwanted pregnancies and some types of birth control, such as barrier methods, can protect against sexually transmitted diseases.
Several types of birth control are available to women, which prevent pregnancies through different mechanisms.
For example, barrier methods such as a condom work by a layer of latex, lambskin or polyurethane keeping the sperm ejaculated from entering the vagina. Some types of birth control contain hormones, which interfere in ovulation, thus preventing pregnancy.
The effectiveness of birth control depends on whether or not the woman always takes it as directed.
For example, Planned Parenthood noted that the effectiveness of the birth control pill is over 99 percent when always taken as directed every day. That effectiveness drops to 91 percent if the woman does not always take it as directed.
For women who have trouble remembering to take their pill or do not want to think about taking a birth control pill every day, there are longer-term hormonal birth control options. One choice is an intrauterine device, or IUD, which is implanted in the woman's uterus.
On January 9, 2013, the FDA approved a new hormonal IUD called Skyla (levonorgestrel-releasing intrauterine system). Skyla contains 13.5 mg of levonorgestrel, a synthetic progestin.
"Skyla will provide top tier pregnancy protection, matched only by the other IUDs, the contraceptive implant and sterilization," explained Anita L. Nelson, M.D., Professor of Obstetrics and Gynecology at Harbor-UCLA Medical Center. "Skyla thickens the woman's cervical mucus to prevent sperm from ascending into the upper genital tract."
"Skyla is much like Mirena [another type of hormonal IUD], but it is smaller ([it] will fit into the smaller wombs of women who have not had children before), narrower (so it will be easier to place in these women and women who have delivered by C-section), and has less hormone reserves (so it will last for only three years, but release even lower hormone levels into a woman's blood stream than Mirena does)."
Skyla is implanted into the woman's uterus by her healthcare provider and can remain for three years. If a woman decides she wants to become pregnant before three years have passed, Skyla can be removed.
According to the press release from Bayer HealthCare, 77 percent of women who wished to become pregnant will be able to within the first year of IUD removal.
Women who choose to use Skyla may notice a change in their menstruation. "There is increased spotting and light bleeding after placement, but that decreases over time," according to Dr. Nelson.
Certain women are good candidates for Skyla.
Dr. Nelson explained that "women who have never had children and those who have only by C-section, women who want contraception for two to three years, and women who are looking for the lowest hormone levels" may consider Skyla as a birth control option.
Women who have had pelvic inflammatory disease, liver disease, breast cancer or another cancer sensitive to progestin, large fibroid tumors or a current untreated pelvic infection should not use Skyla.
This IUD should not be used by women who get infections easily or are allergic to its ingredients, including iron oxide, levonorgestrel, barium sulfate, silicone, silica, polyethylene and silver.
Side effects are possible with Skyla. In the clinical trial, commonly reported adverse effects were headaches, increased bleeding, nausea, abdominal or pelvic pain, breast pain or discomfort, inflammation of the vagina or vulva, ovarian cyst and painful menstruation.
Some women may have dizziness, bleeding or pain when Skyla is being inserted or afterwards. One in 16 women stop having periods one year after they begin using Skyla, according to Bayer HealthCare.
Expulsion, in which the IUD comes out by itself, occurs in about 3 out of 100 women, noted Bayer Health Care. If this occurs, women should contact their healthcare provider and use a back-up birth control method.
Possible serious side effects of Skyla are pelvic inflammatory disease, perforation of the uterine wall and life-threatening infection.
Skyla, like other IUDs, does not protect against sexually transmitted diseases.
Skyla will be available in the United States by prescription the week of February 11, 2013. Women interested in Skyla can visit www.skyla-us.com for more information and talk to their healthcare providers to see if it is a possible birth control method for them.
References
Interview with Dr. Nelson. Email. 17 January 2013.
Centers for Disease Control and Prevention. Contraception. Web. 23 January 2013.
http://www.cdc.gov/reproductivehealth/UnintendedPregnancy/Contraception.htm
WomensHealth.gov. Birth Control Methods Fact Sheet. Web. 23 January 2013.
http://www.womenshealth.gov/publications/our-publications/fact-sheet/birth-control-methods.cfm
Planned Parenthood. Birth Control Pills. Web. 23 January 2013.
http://www.plannedparenthood.org/health-topics/birth-control/birth-control-pill-4228.htm
Bayer HealthCare. U.S. FDA Approved Bayer's Skyla (Levonorgestrel-Releasing Intrauterine System) 13.5 mg for Prevention of Pregnancy for Up to Three Years. Web. 23 January 2013.
http://www.skyla-us.com/pdf/PressRelease.pdf
Bayer HealthCare. Patient Information. Web. 23 January 2013.
http://labeling.bayerhealthcare.com/html/products/pi/Skyla_PPI.pdf
Reviewed January 23, 2013
by Michele Blacksberg RN
Edited by Jody Smith
Tags: