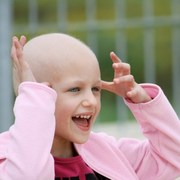 Photo: Getty Images
A new Facebook campaign is requesting giant U.S. toymaker, Mattel, to mass-produce a bald Barbie for girls and women who've lost their hair due to cancer and other illnesses.
The campaign has generated more than 12,000 likes on the Facebook page, "Beautiful and Bald Barbie."
Last year, Mattel created a one-of-a-kind bald Barbie for a 4-year-old suffering from cancer who lost her hair during chemotherapy treatment, according to CBS New York.
Now supporters want every child or woman experiencing hair loss from cancer treatment, pulling one's hair out, or other diseases that cause the immune system to attack hair follicles, to be able to have a bald Barbie doll to help boost their self- esteem. And if the toy company would agree to also making a headscarf or hairband, even better.
Supporters believe a bald Barbie would help lessen the stigma associated with hair loss, but chopping off Barbie's lustrous locks to leave undesirable fringe just won't do.
Organizers Jane Bingham and Beckie Sypin say the now viral movement just started out as a way to bring attention to childhood cancer and let Mattel know there is a lot of demand for a bald Barbie doll. They hope the company will acknowledge childhood cancer by dressing Barbie in yellow — not pink — the color of the childhood cancer awareness ribbon.
The two moms explain their goal this way: "We would like to see a Beautiful and Bald Barbie made to help young girls who suffer from hair loss due to cancer treatments, Alopecia or Trichotillomania. Also, for young girls who are having trouble coping with their mother's hair loss from chemo. Many children have some difficulty accepting their mother, sister, aunt, grandparent or friend going from a long haired to a bald."
The two friends are no strangers to cancer. Beckie Sypin's 12-year-old daughter is undergoing chemo, and Jane Bingham is battling lymphoma.
"We were just a couple of moms with an idea," said Beckie Sypin of starting the Facebook page. They never expected the campaign to "explode" into such overwhelming support.
When they put the page up on the social networking site on December 20, 2011, the women had hoped for 500 supporters by Christmas; they had 1,000. Before the New Year there was 5,000 and now, support for the bald Barbie is growing by the thousands every hour into a global phenomenon. The challenge now is to keep others from hijacking the movement and turning it into something "disrespectful," Beckie Sypin said.
Tracey Kidd of Biloela, Australia is one such supporter.
"There's so much emphasis, especially on little girls, on their hair and how they (cancer kids) look," Tracey Kidd, whose 4-year-old daughter, Ruby, is a childhood cancer survivor. "It's important for them to feel good, especially in hospital," she tells The Sunday Mail.
But not all moms agree a bald Barbie is a good idea. The Amarillo Globe News reports some parents think a Cancer Barbie is "too tough a subject" for young girls. Others believe if people want to help young girls with cancer they should donate to cancer research rather than buying a bald doll.
Beckie Sypin said the group received a form letter from Mattel saying the company doesn't accept outside ideas for their signature toy but acknowledged they are working on new Barbie lines for 2012. Media requests to Mattel for comment have been unanswered.
Lynette Summerill, an award-winning writer and scuba enthusiast lives in San Diego, CA with her husband and two beach loving dogs. In addition to writing about cancer-related issues for EmpowHER, her work has been seen in newspapers and magazines around the world.
Sources:
Personal interview with Beckie Sytin. 11 January 2012.
Beautiful and Bald Barbie! Let's see if we can get it made. Accessed 11, Jan. 2012.
http://www.facebook.com/BeautifulandBaldBarbie
Mattel Pressured to Produce a Cancer Barbie. Amarillo Globe News. Brittany Nunn. 10 January 2012. Accessed online:
http://amarillo.com/blog-post/brittany-nunn/2012-01-10/mattel-pressured-produce-cancer-barbie#.Tw3E6krBoXx
Mattel Under Pressure to make bald Barbie. The Sunday Mail. 7 January, 2012. Accessed online 11 January 2012 at: http://www.news.com.au/world/mattel-under-pressure-to-make-bald-barbie/story-e6frfkyi-1226239001949#ixzz1jAjo9zl7
Reviewed January 11, 2012
by Michele Blacksberg RN
Edited by Jody Smith