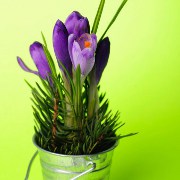 Photo: Getty Images
The spice saffron is in the news for its cancer fighting ability. Nathan Seppa reported in the October 8, 2011 issue of Science News that saffron was successful in preventing liver cancer in an animal model. The research was done by a group of molecular biologists led by Amr Amin of United Arab Emirates University. This group chose liver cancer because many cancers that metastasize from other organs end up in the liver.
Saffron is an expensive spice made from the Crocus sativus flower. I found prices of $10 to $20 per gram. Seppa reported that the spice has been used as a folk remedy for centuries. Over the last few decades, saffron has attracted interest in research labs around the world.
Lab studies of human cancer cell lines have shown promise for saffron as an anti-cancer agent. H. H. Aung and colleagues at the University of Chicago reported in 2007 that saffron inhibited the growth of colorectal cancer cells, while not affecting normal cells. S. Samarghandian and colleagues at Mashhad University Medical Sciences in Iran reported in May, 2011, that saffron kills human lung cancer cells by inducing apoptosis.
Amin's study was based on an experimental model of liver cancer in rats. The chemical diethylnitrosamine was injected into the animals to induce liver cancer. Seppa explained that 24 rats were fed saffron daily for 24 weeks, starting two weeks before the chemical injection.
Eight other rats received the same cancer-promoting chemical with no saffron. Six of them developed cancerous nodules on the liver, while only four out of the 24 rats receiving saffron developed cancerous nodules. Amin reported that the saffron doses were 75, 150, and 300 mg/kg/day. None of the rats on the highest dose developed nodules.
Clinical studies are planned for liver cancer patients, Seppa reported. In addition, further research may yield a way to lower the price. Synthetic versions of the active ingredients may be less expensive to produce.
In addition, C. J. Zheng and colleagues at Second Military Medical University, Shanghai, China, found that other parts of the Crocus sativus plant have compositions similar to the stigma, which is used to make saffron.
References:
1. Seppa N, "Saffron fights liver cancer", Science News 2011 Oct. 8; 180(8): 14. Online version: Saffron takes on cancer. Web. Oct. 8, 2011. http://www.sciencenews.org/view/generic/id/333911/title/Saffron_takes_on_cancer
2. Aung HH et al, "Crocin from Crocus sativus possesses significant anti-proliferation effects on human colorectal cancer cells", Exp Oncol 2007 Sep; 29(3): 175-80. http://www.ncbi.nlm.nih.gov/pubmed/18004240
3. Samarghandian S et al, "Suppression of pulmonary tumor promotion and induction of apoptosis by Crocus sativus L. extraction", Appl Biochem Biotechnol. 2011 May; 164(2): 238-47. http://www.ncbi.nlm.nih.gov/pubmed/21153568
4. Amin A et al, "Saffron: A potential candidate for a novel anticancer drug against hepatocellular carcinoma", Hepatology 2011 May 23. doi: 10.1002/hep.24433. http://www.ncbi.nlm.nih.gov/pubmed/21607999
5. Zheng CJ et al, "Chemical constituents and bioactivities of the liposoluble fraction from different medicinal parts of Crosus sativus", Pharm Biol. 2011 Jul; 49(7): 756-63. http://www.ncbi.nlm.nih.gov/pubmed/21639689
Linda Fugate is a scientist and writer in Austin, Texas. She has a Ph.D. in Physics and an M.S. in Macromolecular Science and Engineering. Her background includes academic and industrial research in materials science. She currently writes song lyrics and health articles.
Reviewed October 17, 2011
by Michele Blacksberg RN
Edited by Jody Smith
Tags: