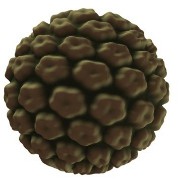 Photo: Getty Images
For many women, a diagnosis of HPV may come in the mail via a form letter. Some doctor's offices will contact the patients by telephone and inform them that they test positive for HPV. But what happens after this? If you happen to be informed at one of your routine visits, even then you may not receive much information.
Nurses, who are usually the ones taking on the role of educating the patients, are sometimes sorely misinformed regarding the human papillomavirus (HPV) and I have heard harrowing stories about the totally incorrect information being provided to a patient such as, "HPV only affects the cervix." This is not only negligence, in my opinion, but jeopardizes the patient when they are unaware of the significant role posed by this virus.
Unfortunately, this results from both doctors and nurses being poorly educated themselves. While each are required to take continuing medical education courses in order to renew their licenses (usually every two years), a course regarding HPV is not mandatory in any state in the nation. Keep in mind this is a virus that affects 80 percent of the population, yet one which requires no minimum certification when it comes to their own knowledge.
One of the things you can do before this situation happens to you is to learn as much as you can on your own. Write down any questions you may have for your doctor and fully expect a thorough and adequate answer. Far too many patients are afraid to confront their doctor's authority and will simply nod their head as if they understood everything that was said when often they do not. Do not be afraid to tell your doctor that you don't understand his answer and request further clarification.
There are many valuable sites on the internet which are approved by HONCode, which certifies sites for medical accuracy. You should always check to see if the site you are visiting has such a logo.
HPV is known to cause at least six different cancers, yet many people are not even made aware that they should get the vaccine series (three shots over six months). Many are told they cannot receive it because they are already HPV positive. With over 14 high risk strains of HPV, the standard test does not identify the strain you have so there is no way for the doctor to make this claim unless he has had individual genotyping done to specifically confirm your HPV type. Even then, strains 16 and 18--the ones covered by the vaccine--are typically tested for together so you can have a positive test but this doesn't necessarily mean you have both strains. The vaccine is still appropriate in these cases.
sources:
http://www.gardasil.com/gardasil-product-information/
http://www.cdc.gov/vaccines/pubs/vis/downloads/vis-hpv-gardasil.pdf
Reviewed June 7, 2011
edited by Alison Stanton