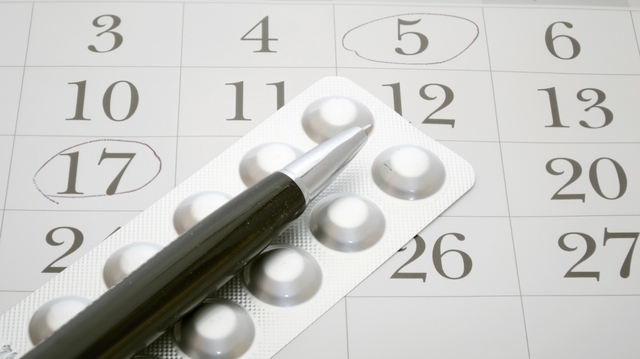 Sergey Gorodenskiy/PhotoSpin
Often called the morning-after pill, emergency contraceptive pills (ECPs) can help women who just had sex and something went wrong. It's also an important option for women who were forced to have sex.
Most emergency contraceptive pills use levonorgestrel, a form of the hormone progesterone. Although scientists aren't completely sure how it works, they believe that levonorgestrel prevents pregnancy either by stopping the ovulation process or by disrupting the ability of sperm and egg to meet in the fallopian tubes.
Some speculate that the drug may prevent the fertilized egg from implanting as well, perhaps by making the uterine lining less receptive to the egg. Levonorgestrel does this by disrupting the natural hormonal cycle. It contains a synthetic form of progesterone. The high doses of progesterone are disruptive enough to prevent fertilization and implantation.
Although there is only a 24-hour window during which an egg can be fertilized, sperm can live for three to five days inside a woman's body. So if a woman has unprotected sex three days prior to ovulation, she has a very good chance of getting pregnant.
That said, pills with levonorgestrel work best up to 72 hours after having unprotected sex, but will reduce the risk of pregnancy if taken within five days after unprotected sex. If fertilization and implantation have already happened, levonorgestrel won't interrupt the pregnancy.
A newer type of emergency contraception is available that doesn't use hormones. It is a drug called ulipristal acetate (UPA) that blocks the effects of your own hormones. UPA delays ovulation so it may help prevent implantation. It stays effective for up to five days after sex.
The Copper-T intrauterine device (IUD) is another emergency contraception option. It does not affect ovulation, but it can prevent sperm from fertilizing an egg. It may also prevent implantation of a fertilized egg.
A doctor places the small, T-shaped device into the uterus within five days after having unprotected sex. The doctor can remove the IUD after your next period. Or, it can be left in place for up to 10 years as a form of regular birth control.
Emergency contraceptive pills are not the same as the abortion pill. ECPs don't have any effect if a woman is already pregnant.
Sources:
"Discovery Health." Discovery Fit and Health. N.p., n.d. Web. 29 Oct. 2013.
http://health.howstuffworks.com/sexual-health/contraception/morning-after.htm
"Emergency contraception (emergency birth control) fact sheet." womenshealth.gov. N.p., n.d. Web. 29 Oct. 2013.
http://www.womenshealth.gov/publications/our-publications/fact-sheet/emergency-contraception.cfm
"Emergency contraception: How emergency contraceptives (the morning after pill) prevent pregnancy." Emergency contraception: How emergency contraceptives (the morning after pill) prevent pregnancy. N.p., n.d. Web. 29 Oct. 2013.
http://ec.princeton.edu/questions/ecwork.html
"How Does Emergency Contraception Work?" WebMD. WebMD, n.d. Web. 29 Oct. 2013.
http://www.webmd.com/sex/birth-control/emergency-contraception-13/how-emergency-contraception-works?ecd=wnl_sxr_090713&ctr=wnl-sxr-090713_ld-stry_2&mb=
"Teens Health." Emergency Contraception. N.p., n.d. Web. 29 Oct. 2013.
http://kidshealth.org/teen/sexual_health/contraception/contraception_emergency.html
How Does Emergency Contraception Work? WebMD. Web. 29 Oct. 2013.
http://www.webmd.com/sex/birth-control/how-emergency-contraception-works
Reviewed October 31, 2013
by Michele Blacksberg RN
Edited by Jody Smith