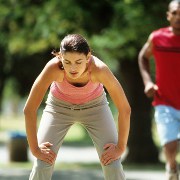 Photo: Getty Images
Olympic athletes and other marathon runners could benefit from allergy testing to make sure they have the right medications before they run. That was one conclusion of a study from Northumbria University led by Dr. Paula Robson-Ansley. Researchers concluded that out of almost 40,000 runners in the 2011 London Marathon, one-third would experience allergy symptoms after the run.
Many marathon runners have allergy-like symptoms a few days after a race. The runny nose and watery eyes are often attributed to a case of the sniffles at a time when the immune system was stressed by the effort put into the race. The Northumbria team used a health questionnaire along with blood tests to determine whether how many runners were suffering from allergies following the race.
The blood tests measured the levels of immunoglobulin E (IgE) antibodies. Higher IgE levels indicate that allergies are present. During an allergy attack, the immune system reacts to an allergen such as pollen as though it was harmful to the body. IgE antibodies and other chemicals are released into the bloodstream to fight off the invading allergen particles. This overreaction by the immune system also triggers typical allergy symptoms including runny nose, and itchy or watery eyes. Other symptoms can include inflammation in the airways that can cause difficulty breathing.
Marathon runners are exposed to a variety of pollens depending on the location and timing of the race. For example, the London Marathon typically takes place in April when pollen levels from several trees are high. Runners who are allergic to those pollens may experience more severe allergy symptoms following the race.
This study has special significance for Olympic athletes planning to compete at the 2012 games in London. "The Olympics are taking place during the peak grass-pollen period," Robson-Ansley said, "so, if almost three out of ten people are potentially allergic to this common aeroallergen, it is a priority to have Olympic athletes tested before the games so an appropriate treatment regime can be put in place."
If you are a marathon runner and know you have allergies or hay fever, consider what you are allergic to and what the pollen count for that allergen will be when you race. If you don't know what your allergens are, consider seeing an allergy specialist who can perform tests to determine what you are allergic to.
Try these tips to reduce or prevent allergy symptoms when you race:
• Check the pollen count to find out when your allergen levels will be highest. Try to avoid training during the times of day when pollen counts are up. Cool, cloudy days usually have lower pollen counts than warm, dry days.
• Use appropriate medications to control your symptoms. Some medications take up to two weeks to fully take effect, so plan ahead to make sure your medications are at full strength. Talk to your health care provider to determine whether antihistamines or corticosteroid nasal sprays could help you.
• Shower, wash your hair, and change your clothes to get rid of pollens after exercising outdoors.
• If you have asthma or are already taking allergy or asthma medications, talk to your health care provider about possibly increasing your doses if you will be training or competing in areas with higher than normal pollen counts.
Allergy symptoms following a marathon may seem like a minor inconvenience. But runners who experience repeated episodes of allergy symptoms may be at risk of developing exercise-induced asthma or allergic asthma. Allergic asthma is the most common type of asthma and can cause coughing, wheezing, difficulty breathing, and chest tightness.
Inflammation of the airways caused by allergic asthma may be partially reversed using medication or may be a permanent condition. For people who have allergies, using appropriate medications before running a marathon can reduce allergy symptoms and lower the risk of developing more serious conditions including allergic asthma.
Sources:
Science Daily
Asthma and Allergy Foundation of America
Discovery Health
Pollen.com
http://www.northumbria.ac.uk/browse/ne/uninews/marathonrunners
Edited by Alison Stanton