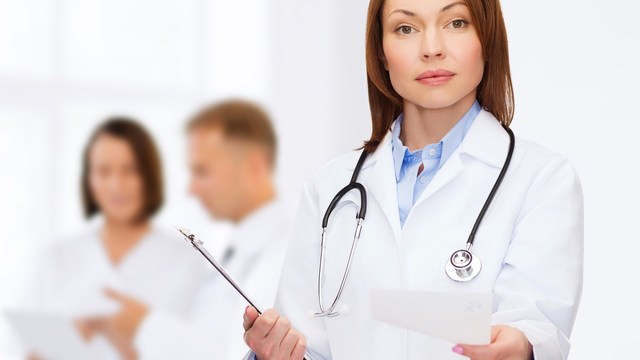 Lev Dolgachov/PhotoSpin
Many women first discuss the benefits and risks of hormone therapy around the time of menopause because of symptoms such as hot flashes. But what about women who have already gone through menopause or had a hysterectomy and never took hormone therapy?
Years later, is estrogen and/or progesterone HT still an option? When is it too late for hormone therapy?
Dr. Philip Sarrel, who serves on EmpowHER's Medical Advisory Board and is Emeritus Professor of obstetrics, gynecology, and psychiatry at Yale University, said this in a phone interview with us. "The window in which a woman can reap the most benefits from HT is within ten years of her last menstrual flow."
British Columbia Medical Journal reported that there is accumulating evidence supporting the initiation or re-initiation of HT as a later intervention for a variety of conditions associated with menopause and aging.
Delayed menopausal symptoms often led postmenopausal women to inquire about HT.
Hot flashes are the most common reason. While they generally occur in a woman's late 40s and early 50s, it's not uncommon for hot flashes to appear during one's late 50s and early 60s.
Furthermore, sexual dysfunction like vaginal dryness, painful penetration and orgasm problems, generally occurs about two years after menopause.
But Sarrel stressed that the 10-year window is about more than just delayed menopausal symptoms.
"We know that estrogen is not only important in temperature control but it's also very important in protecting your arteries and your bones. That ten year window where HT produces the biggest benefits is in reducing heart attacks, bone fractures, colon cancer and psychiatric problems. The data says if you want to reduce the risk of having a heart attack, the estrogen should be replaced within ten years of when the ovarian production was lost; preferably within six years."
BCMJ wrote that numerous studies have demonstrated a 40-50 percent reduction in the risk of coronary heart disease among postmenopausal HT users.
Dr. Mache Seibel pointed out another benefit in the Huffington Post. Estrogen-only HT may reduce (not increase) the risk of breast cancer.
"We do know for women starting at any age with the estrogen only treatment – even those who started in their seventies – all of the women showed a reduction in the risk of breast cancer," Sarrel said.
Considering HT is an important decision in a woman's life. Women need to do plenty of research and speak with their doctors about their options.
Sarrel advised women to articulate to their doctor all of the symptoms that they're experiencing because often doctors don't ask. In addition, share family medical history like breast cancer and osteoporosis.
Sarrel also recommended the North American Menopause Society (NAMS) website. It lists certified menopause practitioners across the country.
Sources:
Sarrel, MD, Philip M. Phone interview. 30 Sept. 2014.
Fluker, MD, FRCSC, Margo R. "HRT in older women: Is it ever too late?" Home Page. N.p., n.d. Web. 29 Sept. 2014.
http://www.bcmj.org/article/hrt-older-women-it-ever-too-late
Seibel, MD, Mache. "Menopause and Estrogen: The Women's Health Initiative (WHI) 10 Years Later." The Huffington Post. TheHuffingtonPost.com, 25 June 2012. Web. 29 Sept. 2014.
http://www.huffingtonpost.com/mache-seibel-md/hormone-therapy_b_1619414.html
Reviewed October 2, 2014
by Michele Blacksberg RN
Edited by Jody Smith
Tags: