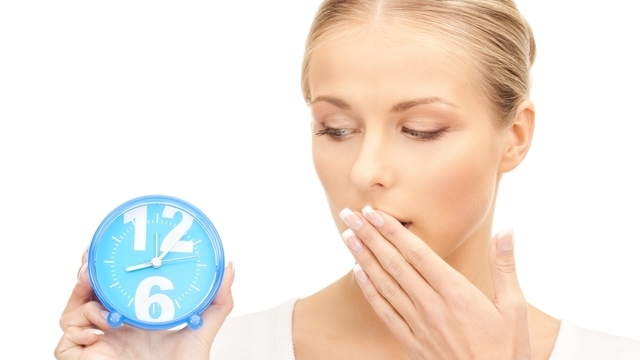 Lev Dolgachov/Photospin
Sleeping problems tend to plague women. For instance, the National Sleep Foundation's 2005 Sleep in America poll, which focused on the sleeping habits of adults, found that "more women than men experience symptoms of insomnia at least a few nights a week (63 percent vs. 54 percent) and they are more likely to have daytime sleepiness."
The NSF found in the 2007 Sleep in America poll, which focused on the sleeping habits of women, that about 11 percent of women had been told by a doctor they had insomnia, and 7 percent received treatment.
According to the survey, "about two-thirds of women (67 percent) report experiencing any sleep problem at least a few nights a week within the past month, with 46 percent reporting this occurring every night or almost every night."
However, there is hope of effective treatments instead of the perpetual fatigue and sleepless nights.
Forms of treatments include behavior therapy and medication, according to Mayo Clinic.
Some types of behavior therapies that are listed by the Mayo Clinic are "education about good sleeping habits," "relaxation techniques," "cognitive therapy," "stimulus control," "sleep restriction" and "light therapy."
Most of the behavior therapies are self-explanatory, but stimulus control means only using the bed for certain activities, like sleep and sex.
The first behavior therapy mentioned, "education about good sleeping habits," can also refer to initial "treatments" that people can try on their own. The informal treatment options are regulating the sleeping schedule, avoiding food and excessive drinking (especially anything involving caffeine) before bed time, as well as exercise.
Some medications that are used to treat insomnia are prescription sleeping pills, like Ambien and Lunesta, according to Mayo Clinic. Over-the-counter sleep aids are sometimes used. All the above can cause various side effects that a doctor can inform you about.
Antidepressants are sometimes prescribed, like when a person has insomnia and depression, according to Mayo Clinic.
The University of Maryland Medical Center has other simple treatments, besides cognitive therapy, that may help ease sleeping problems or insomnia.
Those not already mentioned include a doctor visit, warm bath, massage, music, warm milk, herbal tea, firm mattress and counting. One odd suggestion is to "sleep with your head facing north (magnetic) and feet facing south."
Barbara Krygier, a nurse practitioner and the unit director of the Sleep Disorders Center at the University of New Mexico, recommends therapy for insomnia treatment.
"Cognitive and behavioral therapy is more effective in the long run than medications," Krygier said in an e-mail.
She said these forms of therapy are natural forms of treatment, as well as the use of melatonin "for people who have delayed their sleep times," which can be found in health food stores.
According to Krygier, chronic pain is the number one cause of insomnia, and she treats many women with fibromyalgia and insomnia. Others have obstructive sleep apnea that causes insomnia and can be treated, as well as those who have psychiatric disorders.
Sources:
http://www.mayoclinic.com/health/insomnia/ds00187/dsection=treatments-and-drugs
http://www.umm.edu/sleep/simp_things.htm
http://www.sleepfoundation.org/article/sleep-topics/women-and-sleep
http://www.sleepfoundation.org/sites/default/files/Summary_Of_Findings%20-%20FINAL.pdf
http://www.sleepfoundation.org/article/sleep-america-polls/2007-women-and-sleep
Tags: