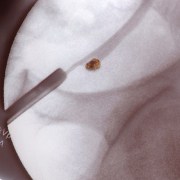 Photo: Getty Images
According to the National Kidney Foundation, "more than half a million people go to the emergency room annually for kidney stones." The Foundation states, "The prime age for kidney stones is between the ages of 20 through 50."
Men and women both suffer from kidney stones. However, men are twice as like to have kidney stones. African-Americans are less likely to suffer from kidney stones.
Symptoms for kidney stones are the same for both men and women. Since some women have a higher threshold of pain, some women may ignore their symptoms and classify their pain as menstrual cramps, back pain or sore muscles.
Additional symptoms of kidney stones include:
• Nausea
• Vomiting
• Fever
• Chills
• Urine that smells bad or looks cloudy
• Burning feeling when you urinate
• Severe pain on either side of your lower back
• More vague pain
• A stomach ache that doesn't go away
• Blood in your urine
People who are at risk for developing kidney stones include those who have:
• Chronic diarrhea
• Diabetes (especially in younger women)
• Family members who have had kidney stones
• High blood pressure
• Kidney cysts might increase the risk of stones
• Obesity
• Osteoporosis
There are four types of kidney stones:
• Calcium stone
• Struvite stone
• Uric stone
• Cystine stone
These stones can range in size from the size of a grain of sand to the size of a golf ball. The stones are usually brown or yellow in color and they can have jagged or smooth edges.
If you are prone to kidney stones, your doctor may ask you to strain your urine to capture the stone. The capture of the stone will determine what type of stone your body is producing. The type of stone you have will also determine what course of action your doctor will take to prevent future stones.
Possible causes of kidney stones include:
• Too much exercise
• Too little exercise
• Not drinking enough water
• Obesity
• Weight loss surgery
• Eating food with too much salt or sugar
• Eating too much fructose (table sugar and high fructose corn syrup)
To reduce kidney stones, the National Kidney Foundation and National Institute of Diabetes and Digestive and Kidney Diseases (NIDDK) recommends the following diet:
• Drink 12 cups of water per day (more if you exercise)
• Limit sugar and high fructose-corn syrup intake
• Limit coffee, tea, colas to one-two cups per day
• Reduce salt in your diet
If you are prone to calcium oxalate stones, avoid the following foods:
• Rhubarb
• Spinach
• Beets
• Peanuts
• Chocolate
• Sweet potatoes
If you are prone to uric stones, avoid meat.
Most stones pass through your urine. However, if the stone is too large your doctor may recommend shock wave therapy to break up the stone. Two other ways to remove kidney stones are with the use of an ureteroscope and surgery.
Contact your doctor immediately if you are having side pain and blood in your urine.
Sources:
Kidney stones - PubMed Health. National Center for Biotechnology Information. Retrieved September 3, 2011, from http://www.ncbi.nlm.nih.gov/pubmedhealth/PMH0001493
Kidney Stones in Adults - National Kidney and Urologic Diseases Information Clearinghouse. Home Page - National Kidney and Urologic Diseases Information Clearinghouse. Retrieved September 3, 2011, from http://kidney.niddk.nih.gov/Kudiseases/pubs/stonesadults
What I need to know about Kidney Stones - National Kidney and Urologic Diseases Information Clearinghouse. Home Page - National Kidney and Urologic Diseases Information Clearinghouse. Retrieved September 3, 2011, from http://kidney.niddk.nih.gov/kudiseases/pubs/stones_ez
National Kidney Foundation: A to Z Health Guide Item. National Kidney Foundation. Retrieved September 3, 2011, from http://www.kidney.org/atoz/content/kidneystones.cfm
Disease. AUAF - Home. Retrieved September 3, 2011, from
http://www.urologyhealth.org/urology/index.cfm?article=145
Reviewed September 5, 2011
by Michele Blacksberg R.N.
Edited by Jody Smith