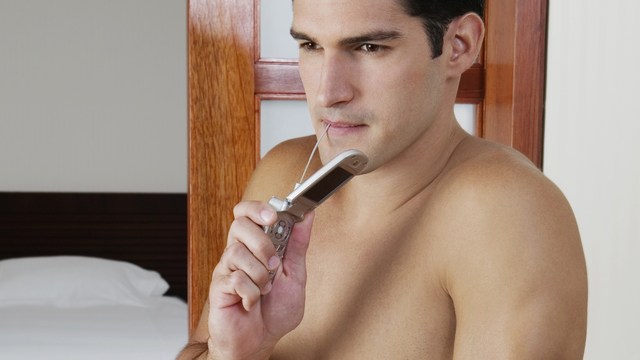 PS Productions/PhotoSpin
Men who carry their cell phones in their pants pocket may be reducing their chances of having children.
A review by the University of Exeter in England suggested that sperm number and movement were affected by carrying cell phones in pockets, reported BBC News. Published in the journal Environment International, the study said electromagnetic radiation could be to blame.
ScienceDaily.com wrote that previous research has implied that radiofrequency electromagnetic radiation emitted by the devices can have a detrimental effect on male fertility.
The research team led by Dr. Fiona Mathews analyzed 10 separate studies on sperm quality involving 1,492 men. These included laboratory tests on sperm exposed to cell phone radiation and questionnaires of men at fertility clinics.
Sperm quality was measured in three different ways:
- Mobility (how well sperm moves towards an egg)
- Viability (how much of the sperm is healthy)
- Sperm concentration (the number of sperm per unit of semen)
Among men with no exposure to cell phones, 50-85 percent of their sperm had a normal mobility.
Researchers found this fell by an average of eight percentage points when there was exposure to cell phones, stated ScienceDaily.com. Similar effects were seen for sperm viability.
HealthDay News wrote that the investigators evaluated the effects of cell phone exposure on sperm concentration as being unclear.
Dr. Mathews told the Daily Mail that while the findings suggest that cell phone radiation has an impact on male fertility, much more research is needed to draw any firm conclusions.
"Given the enormous scale of mobile phone use around the world, the potential role of this environmental exposure needs to be clarified. This study strongly suggests that being exposed to radio-frequency electromagnetic radiation from carrying mobiles in trouser pockets negatively affects sperm quality. This could be particularly important for men already on the borderline of infertility, and further research is required to determine the full clinical implications for the general population," she said as reported by ScienceDaily.com.
Most of the world's adult population own mobile phones, and around 14 percent of couples in wealthy countries have difficulty conceiving.
Dr. Allan Pacey from the University of Sheffield researches sperm. He said that the quality of the study's evidence is poor.
"That's because they have either sperm kept in a dish irradiated at frequencies used by mobile phones which is not realistic. What we need are some properly designed epidemiological studies where mobile phone use is considered alongside other lifestyle habits," he was quoted as saying on Online Mail.
How sperm would be damaged by cell phones is unclear. Radiofrequency electromagnetic radiation from the phone may disrupt the cycle of sperm production or damage the DNA. Another possibility is that heat may affect the sperm, either directly from the phone or through the radiation.
Sources:
"Cell phones negatively affect male fertility, new study suggests." ScienceDaily. ScienceDaily, n.d. Web. 8 July 2014.
http://www.sciencedaily.com/releases/2014/06/140609205658.htm
Gallagher, James. "Concern over phone 'sperm threat'." BBC News. N.p., n.d. Web. 8 July 2014.
http://www.bbc.com/news/health-27767981
Preidt, Robert. "Cellphone Exposure May Harm Male Fertility." Consumer HealthDay. N.p., n.d. Web. 8 July 2014.
http://consumer.healthday.com/health-technology-information-18/cellphone-health-news-729/cellphone-exposure-may-harm-male-fertility-688673.html
Spencer, Ben. "Mobile phone risk to fertility of men who keep devices in their trouser pocket: Radiation can affect quality of sperm." Mail Online. Associated Newspapers, 10 June 2014. Web. 8 July 2014.
http://www.dailymail.co.uk/news/article-2653406/Mobile-phone-risk-fertility-men-devices-trouser-pocket-Radiation-affect-quality-sperm.html
Reviewed July 10, 2014
by Michele Blacksberg RN
Edited by Jody Smith