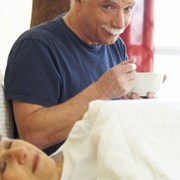 Jupiterimages/Photos.com/Thinkstock
The male reproductive system depends on hormones, which stimulate or regulate the activity of the cells and organs, wrote the Cleveland Clinic.
The primary hormones involved are follicle-stimulating hormone (FSH) and luteinizing hormone (LH) which are necessary for producing sperm and testosterone.
Testosterone is important in the development of muscle mass and strength and sex drive.
Several normal, gradual changes occur in the male reproductive system with age. These aging changes occur primarily in the testes.
University of Maryland Medical Center (UMM) reported unlike women and menopause, men don't experience a major, rapid change in hormone production as they age. Unlike the ovaries, the testes continue the ability to make hormones.
Cleveland Clinic said subtle changes in the testes' function may occur as early as ages 45 to 50 and more dramatically after age 70. National Institutes of Health (NIH) wrote that testicular tissue mass decreases and the level of testosterone stays the same or decreases very slightly.
However according to the American Academy of Health & Fitness (AAHF), sperm production continues, so men can father children well into their eighties.
Declining testosterone levels, wrote Mayo Clinic, can make most men notice a difference in their sexual response by age 60 to 65. The penis may take longer to become erect, and erections may not be as firm.
It may take longer to achieve full arousal and to have orgasmic and ejaculatory experiences.
NIH added erectile dysfunction may be a concern for aging men. However erectile dysfunction is most often the result of a medical or psychological problem rather than simple aging.
Other changes that come with age, said UMM, affect the epididymis, seminal vesicles, and prostate gland, as they lose some of their surface cells but continue producing the fluid that helps carry sperm.
The prostate gland also enlarges with age as some of the prostate tissue is replaced with a scar-like tissue, wrote NIH. This condition, called benign prostatic hypertrophy (BPH), affects about 50 percent of men.
Active Forever warned that an enlarged prostate gland increases the risk of urine backup into the bladder and kidneys, which can sometimes cause kidney damage or failure. Urinary tract infections, which may involve the bladder, prostate, or kidneys, are another risk.
It is natural for men to notice a gradual decrease in sex drive as they age, wrote Mayo Clinic. The degree of this decline varies, and most men maintain at least some amount of sexual interest well into their 60s and 70s.
Sometimes, however, decrease in sex drive is related to an underlying condition such as depression, stress or a medication side effect.
Aging doesn't prevent men from having or enjoying sexual relationships.
Sources:
"AAHF - Reproductive System and Aging." Personal trainer specialty certifications, fitness continuing education programs by the American Academy of Health and Fitness. N.p., n.d. Web. 23 Apr. 2012. http://www.aahf.info/sec_exercise/section/reproductive.htm
"Aging Of the Male Reproductive System Information - Health Articles From ActiveForever.com." Medical Equipment & Supplies at ActiveForever.com. N.p., n.d. Web. 23 Apr. 2012.
http://www.activeforever.com/a-506-aging-of-the-male-reproductive-system.aspx
"Cleveland Clinic." Cleveland Clinic. N.p., n.d. Web. 23 Apr. 2012. http://my.clevelandclinic.org/anatomy/male_reproductive_system/hic_the_male_reproductive_system.aspx
"Effects of Aging on the Male Reproductive System: Biology of the Male Reproductive System: Merck Manual Home Edition ." THE MERCK MANUALS - Trusted Medical and Scientific Information. N.p., n.d. Web. 23 Apr. 2012. http://www.merckmanuals.com/home/mens_health_issues/biology_of_the_male_reproductive_system/effects_of_aging_on_the_male_reproductive_system.html
"Aging changes in the male reproductive system." University of Maryland Medical Center | Home. N.p., n.d. Web. 23 Apr. 2012. http://www.umm.edu/ency/article/004017.htm
"Aging changes in the male reproductive system: MedlinePlus Medical Encyclopedia." National Library of Medicine - National Institutes of Health. N.p., n.d. Web. 23 Apr. 2012. http://www.nlm.nih.gov/medlineplus/ency/article/004017.htm
"Aging changes in the male reproductive system." HealthCentral.com - Trusted, Reliable and Up To Date Health Information. N.p., n.d. Web. 23 Apr. 2012. http://www.healthcentral.com/prostate/understanding-prostate-8786-108.html
Nippoldt, M.D., Todd B. "Loss of sex drive in men: Natural with aging? - MayoClinic.com." Mayo Clinic. N.p., n.d. Web. 24 Apr. 2012. http://www.mayoclinic.com/health/loss-of-sex-drive/AN01431/?utm_source=ExpertAnswers&utm_medium=email&utm_campaign=HouseCall&pubDate=April%2020,%202012
"Sexual health and aging: Keep the passion alive - MayoClinic.com." Mayo Clinic. N.p., n.d. Web. 24 Apr. 2012. http://www.mayoclinic.com/health/sexual-health/HA00035
Reviewed April 25, 2012
by Michele Blacksberg RN
Edited by Jody Smith
Tags: