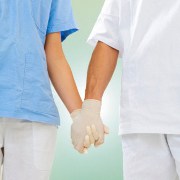 Photo: Getty Images
The term "safe sex" means different things to different people. To some, safe sex is defined as sexual activity in which people take precautions to protect themselves against sexually transmitted diseases (STDs). To others, it means preventing pregnancy. Generally speaking, safe sex means making sure someone else's blood, semen or vaginal fluids does not enter your body.
Regardless of the definitions, there are several ways to practice safe sex.
One way to have safe sex is to avoid physical contact altogether. This eliminates any risks involved with exchanging bodily fluids. Masturbation is safe as long as contact is not made with another's bodily fluids.
Non-penetrative sex can be another form of safe sex. This includes kissing, mutual masturbation, and stroking. This may prevent pregnancy and most STDs, but may not protect against infections that transmit via the skin such as herpes and genital warts.
Barrier protection is a good option for penetrative sex. One form of barriers are condoms. Whether male or female, they can protect against STDs. When used with other forms of contraception, like spermicide, condoms improve pregnancy prevention.
Dental dams or latex sheets serve as protection during oral sex. They are typically used as a barrier between the mouth and vulva.
Medical gloves, made out of latex, vinyl or polyurethane, are barriers to the hands during masturbation. Hands may have invisible cuts that could allow infection to enter.
There are other precautions to help minimize the risks of STDs and unintended pregnancy. Monogamy is very effective in terms of STDs when both partners are infection-free.
For those who do not choose monogamy, reducing the number of sexual partners may also reduce potential exposure to STDs.
Communication with your partner makes for safer sex. Decide ahead of time what activities and precautions you both agree to and what you do not.
Abstinence is another way to practice safe sex. Here again the definition depends on each person. To some, abstinence means not having any type of sexual activity or contact. For some, oral, vaginal, or anal intercourse is sex, and everything else is a form of abstinence. Some people consider themselves it sex if they touch themselves or their partner sexually, rub against their partner without clothes on, or stimulate each other in other ways. For others, oral or anal sex equals abstinence.
Determine your own definition of safe sex and then find what works best for you.
Sources:
GoAskAlice.Columbia.edu
Positive.org - The Coalition for Positive Sexuality
Sexuality.org
HIVInSite.ucsf.edu