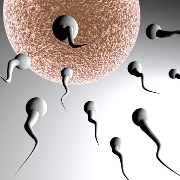 Photo: Getty Images
The male reproductive system is responsible for producing, storing and delivering sperm. This happens in the testicles which are found in the scrotum.
Fertility Journey reports the testicles' two functions are the production of testosterone and sperm. A report in Kimball's Biology Pages adds testosterone is responsible for the development of the secondary sex characteristics of men such as the beard, deep voice, and masculine body shape. Testosterone is also essential for making sperm.
According to the Palo Alto Medical Foundation, immature sperm cells, under the influence of testosterone and other hormones, develop through several stages and eventually become mature sperm cells called spermatozoa.
Kimball's report says an adult male manufactures more than 100 million sperm cells each day.
KidsHealth.org says sperm develop in the testicles within a system of tiny tubes called the seminiferous tubules. At birth, these tubules contain simple round cells, but during puberty, testosterone and other hormones cause these cells to transform into sperm cells. The cells divide and change until they have a head and short tail, like tadpoles.
From beginning to end, Fertility Journey says sperm production takes about 72 days. Sperm spend their first 50 days in the testicles and the last 22 to 24 days in the epididymis. In the epididymis, the sperm mature and gain the ability to swim.
The next step says KidsHealth.org is the sperm then move to the vas deferens, or sperm duct. The seminal vesicles and prostate gland produce a whitish fluid called seminal fluid, which mixes with sperm to form semen when a male is sexually stimulated. When the erect penis is stimulated, muscles around the reproductive organs contract and force the semen through the duct system and urethra. Ejaculation is when semen is pushed out of the male's body through his urethra.
An About.com Men's Health article reports a healthy male can discharge 50 million sperm in a single ejaculation.
Fertility Journey says that during sexual activity, sperm are ejaculated into the female reproductive tract and begin their journey through the cervix and uterus to the fallopian tubes, the site of fertilization. According to the Palo Alto Medical Foundation, only one to 10 sperm out of every 14 million sperm deposited into the vagina actually reach the end of the fallopian tube. There are many pockets and folds along the way that can prevent many of the sperm from reaching their final destination. This is why so many sperm are needed for the fertilization process.
Sources:
A Body Basics Article: the Male Reproductive System. Kids Health from Nemours. Wed 16, Aug 2011.
http://kidshealth.org/parent/general/body_basics/male_reproductive.html#
Sexual Reproduction in Humans. Kimball's Biology Pages by John W. Kimball. Web 6 Aug 2011.
http://users.rcn.com/jkimball.ma.ultranet/BiologyPages/S/Sexual_Reproduction.html
The Male Reproductive Cycle. pamf.org by Palo Alto Medical Foundation. Web 16, Aug 2011.
http://www.pamf.org/fertility/conception/male.html
Healthy Sperm: Maximize Your Fertility. Men's Health by About.com. Web 16, Aug 2011.
http://menshealth.about.com/cs/stds/a/healthy_sperm.htm
His Body. Fertility Journey by N.V. Organon. Web 16, Aug 2011.
http://www.fertilityjourney.com/ready-to-get-pregnant/months-1-3-take-care-have-fun/his-body/index.asp
Reviewed August 16, 2011
by Michele Blacksberg R.N.
Edited by Jody Smith
Tags: