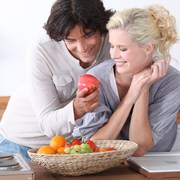 Auremar/PhotoSpin
In general, my patients are very nice people, middle-class men and women who mostly want good relationships and decent sex four, maybe five times per month. A lot of them confess to needing "better communication." But when we actually talk about what that entails, they often back away, with embarrassment, giggles, or silence.
Here's what "better communication" about sex involves: vocabulary, knowing what you want, and a willingness to say it.
When this seems overwhelming to people, I remind them what cooking is like.
When we cook, we have words for everything. We know things: pot, spatula, ladle, strainer, measuring cup, bowl. We know places: stove, sink, refrigerator, microwave oven, counter. We know activities: boil, fry, steam, bake, broil, freeze. We know ingredients: salt, garlic, oil, and my current favorite, coconut milk.
Imagine trying to cook without these words! "Um, take some stuff and do something with it. Then put that someplace while you do some other thing with different stuff. Combine the two bunches of stuff, using the right tool, for a certain amount of time, and then do this other thing until it's finished."
If we cooked like that, we'd starve.
Having sex like that is just as clumsy. A lot of people talk about "down there," "y'know," "that thing I like," and "maybe later;" many people wiggle around during sex, hoping their partner will get the message and do something they like, or stop doing what they won't. If you've tried these things, you know they don't work very well. Especially that wiggling thing.
Then there's the issue of knowing what you want—during cooking as well as during sex.
I like my eggs scrambled, especially with a little chedder, onion, and peppers. But soft-boiled? Eyewwwww—gross! Or to put it in a more grownup fashion, no thank you. Everyone has food preferences: fish and chips yes, sushi no way; well-done beef yes, rare beef, ugh; mushrooms sure, mushroom soup no, no, no. Food preferences don't have to be logical; after all, the Chinese eat things most Americans won't touch, and vice versa. Around the world, carnivores eat things that scare or anger vegetarians.
Our sexual preferences are similarly unpredictable and illogical, but every individual has their own. Nipple-squeezing, butt-smacking, slooooooow kissing, shoulder-biting, toe-sucking: you name it, and someone loves it while somebody else hates it.
It's important to know what you like and don't like (and what you're neutral about until you try it, just like with new foods). And as with food, you certainly don't need to like everything; as long as there are some sexual things you enjoy, you can say "no, thanks" to the rest.
If you want to enjoy sex, you need to give yourself permission to like what you like and to dislike (or be uninterested in) anything else. You don't need to apologize, and you certainly don't need a good reason. I have a cousin who doesn't like ice cream. She can't explain it, and I certainly don't understand it. But she has a real thing for chocolate, so she doesn't feel deprived at all.
Make sure you know what you like sexually, and make sure you have words to describe what you like, how you like it, and when you've had enough (or want more). And make sure you use your words instead of just wiggling.