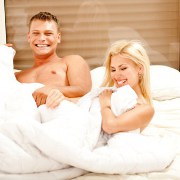 Photo: Getty Images
Nationwide surveys are a fascinating way to learn what fellow Americans think and do when it comes to sex. Some interesting ones have been recently released.
A recent press release by PRNewswire.com cited results from the Trojan Sex Census. It found most people are sexually satisfied; however, sexual frequency depends on where they live.
According to the survey, the average American adult has sex 120 times per year. That breaks down to two to three times per week. About 76 percent reported very high levels of sexual satisfaction, but apparently that isn't enough for some folks. Around two-thirds still long for more sex.
People in the Northeast report being the most sexually active; they average having sex 130 times per year (more than any other US region). They're followed by people in the Midwest, then the West, and then the South bringing up the rear at 114 times per year.
The Trojan survey found men are more willing to sexually experiment than women. More women than men say their favorite sex position is missionary.
The 2011 Great American Sex Survey says more people prefer to do it during the weekend. A press release on PRNewswire.com cited a study by the folks at Adam & Eve, a sex toy retailer.
About 30 percent of participants say they prefer having sex on a Saturday. The runner up is Friday, followed by Sunday. The next highest day for sex is Wednesday—which is fitting, since its nickname is "Hump Day."
A whopping 65 percent have no preference when it comes to their favorite day for sex.
United Press International (UPI) also reported on the survey. About 18 percent of the respondents said they aren't sexually active at this time, while five percent said they were still virgins.
But wait, there's more. Playboy recently released its own sex survey results. A press release on PRNewswire.com cited several interesting findings from their study.
About 15 percent of men and nine percent of women say they've been photographed or filmed while having sex. Think of all the sex tapes out there!
About 54 percent of women say they have a G-spot, while unfortunately, 32 percent aren't sure.
About 48 percent of men and 32 percent of women have "dipped the pen in company ink" and slept with a coworker; however, fewer have slept with the boss (7 percent of men and 8 percent of women).
About 73 percent of women know the first and last names of everyone they've slept with, but only 43 percent of men do.
About 17 percent of men and 15 percent of women have answered the phone while having sex. Those must have been important calls!
Sources:
http://www.upi.com/Health_News/2011/05/13/Survey-3-percent-have-sex-once-a-day/UPI-12511305345495/
http://www.prnewswire.com/news-releases/trojan-us-sex-census-finds-sexual-diversity-and-satisfaction-on-rise-123803499.html
http://www.prnewswire.com/news-releases/adam--eve-finds-most-adults-prefer-having-sex-on-weekends-123458804.html
http://www.prnewswire.com/news-releases/latest-adam--eve-sex-survey-asks-how-often-are-you-doing-it-121775983.html
http://www.prnewswire.com/news-releases/playboys-2011-sex-survey-pulls-back-the-curtain-and-reveals-americans-sex-habits-121879043.html
Reviewed June 22, 2011
Edited by Kate Kunkel
Tags: