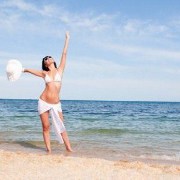 Photo: Getty Images
While many good things come from the sun—vitamin D and mood-elevating bright light, for example—the star's ultraviolet rays can cause a lot of damage to the human body. In the past, people believed that ultraviolet B (UVB, or shortwave) rays were the only cause for concern; more recently, the dangers of ultraviolet A (UVA, or long-wave) rays have also come to light.
Like UVB rays, UVA rays can cause damage to the eyes and skin and can potentially lead to skin cancer. Moreover, they can affect the immune system. Using an effective sunscreen to protect against these harmful rays is a habit worth developing.
UVA rays are less intense than UVB rays but are far more prevalent. It may come as a surprise that UVA rays can penetrate glass and clouds—no more skipping sunscreen on a cloudy day!
Knowing what to look for when purchasing sunscreen can help. First of all, understanding sun protection factor (SPF) is key. The SPF number on a sunscreen bottle does not indicate how much sun protection the product offers; rather, it tells how long the product will protect against burning from UVB rays as opposed to the length of time to redden skin without using the product. According to the Skin Cancer Foundation, "An SPF 15 sunscreen screens 93 percent of the sun's UVB rays; SPF 30 protects against 97 percent; and SPF 50, 98 percent." A product with a minimum SPF 15 is recommended.
SPF alone, however, does not always conquer the sun problem. A May 2011 report from the Environmental Working Group warned consumers that, of 1,700 marketed sunscreen products tested, only 40 percent offered protection against harmful UVA rays. In addition to a high SPF, an effective sunscreen should also contain UVA-fighting ingredients. These include physical filters (zinc oxide and titanium dioxide) or chemical absorbers (stabilized a avobenzone, ecamsule—a.k.a. Mexoryl™—and oxybenzone). Take the time to read the label and check for some combination of these ingredients.
Currently, the U.S. Food and Drug Administration has no method of labeling the amount of UVA protection a sunscreen product offers. Senator Jack Reed (D-R.I.) has argued for this protective measure and helped author the Sunscreen Labeling Protection (SUN) Act, which would require the FDA to enforce clearer, more accurate labeling on sun protection products.
In the meantime, reading sunscreen labels carefully can help protect you from harmful rays. Use a UVA/UVB protective sunscreen with a minimum SPF 15; reapply this every two hours, or more frequently if you are swimming or heavily perspiring. Creams and lotions are better options than sprays and powders.
The Skin Cancer Foundation also recommends taking the following measures to protect yourself from the sun:
Stay in the shade, especially if you are outdoors between 10 a.m. and 4 p.m.
Since UVA rays penetrate glass, you may want to add UV-protective film to your house and car windows to block up to 99.9 percent of UV radiation.
Avoid tanning booths, which depend primarily on UVA rays.
Wear a wide-brimmed hat and UV-protective sunglasses.
Cover yourself with sun-protective clothing as much as possible. A higher ultraviolet protection factor (UPF) is more desirable. (UPF 30 means that only 1/30 of UV radiation from the sun can reach your skin.)
More information about the Environmental Working Group's 2011 sunscreen survey can be found here.
Sources:
Skin Cancer Foundation: Understanding UVA and UVB
Reviewed May 26, 2011
Edited by Alison Stanton
Tags: