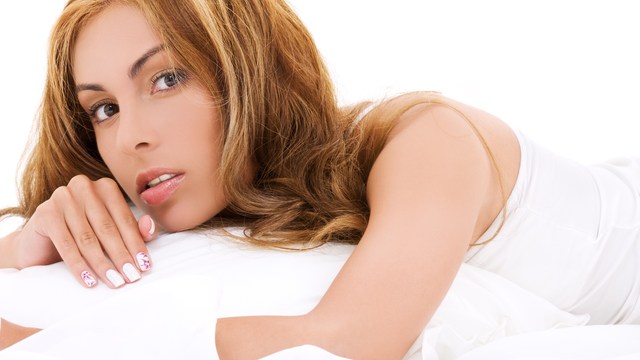 Lev Dolgachov/PhotoSpin
Millions of women experience painful sex for a variety of reasons. Pain during sex may be due to many different causes.
The medical term for painful sex is dyspareunia which is defined, according to the Mayo Clinic, as persistent or recurrent genital pain that occurs just before, during or after intercourse. The pain can range from mild to excruciating.
Sufferers describe it as burning, stinging, sharpness, or extreme tenderness said Harvard Medical School.
One of the top causes of painful sex is vaginal atrophy. This is the thinning, drying and inflammation of the vaginal walls from a loss of estrogen.
Certain medications are known to inhibit arousal, which can decrease vaginal lubrication and make sex painful. These include antidepressants, high blood pressure medications, sedatives, antihistamines and certain birth control pills.
Other causes are injury, trauma or irritation which could come from an accident, pelvic surgery, female circumcision, episiotomy or a congenital abnormality.
Vulvodynia is characterized by hypersensitivity to touch, usually in the vaginal entrance. This can be the result of having frequent vaginal infections, particularly yeast infections.
Certain illnesses and conditions such as certain types of cancer, endometriosis, pelvic inflammatory disease, uterine prolapse, retroverted uterus, uterine fibroids, cystitis, irritable bowel syndrome, hemorrhoids and ovarian cysts can result in painful sex.
Surgical scarring that involve the pelvic area, including hysterectomy, can sometimes cause painful sex. In addition, medical treatments for cancer, such as radiation and chemotherapy, can create changes that make sex painful.
Emotional or psychological issues may be causes. Stress, anxiety, depression, guilt, a history of sexual abuse, or relationship troubles can also be at the root of sexual pain. Some women experience vaginismus, an involuntary clenching of vaginal muscles to prevent penetration.
Treatment of dyspareunia can take many different forms.
Whether vaginal discomfort is mild or severe, regular use of an over-the-counter lubricant or a vaginal moisturizer can help make sex more pleasurable.
Hormone therapy, such as restoring estrogen and progesterone levels to normal levels can help bring back vaginal lubrication.
Women with severe vestibulodynia, a specific form of vulvodynia, may choose vulvar vestibulectomy, which removes some vestibular tissue. This surgery is usually offered only after other medical approaches have failed.
Non-medical approaches include switching positions, experimenting with new ways of being intimate, and practicing better communication with your partner.
Many women with vulvar pain have tight or weakened vaginal and pelvic floor muscles. During desensitization therapy, women learn vaginal relaxation exercises and pelvic floor exercises or other techniques to decrease pain with intercourse.
Talking with a professional counselor or sex therapist may help with emotional and psychological issues.
Women experiencing painful sex should talk with their doctors to determine the cause and an effective treatment plan.
Other resources:
National Vulvodynia Association
http://www.nva.org
International Pelvic Pain Society
http://www.pelvicpain.org
American Physical Therapy Society-Woman's health section
http://www.womenshealthapta.org
Sources:
"Female Pain During Sexual Intercourse: Causes & Treatments." WebMD. WebMD, n.d. Web. 9 Apr. 2014.
http://www.webmd.com/sexual-conditions/guide/female-pain-during-sex?ecd=wnl_wmh_032714&ctr=wnl-wmh-032714_ld-stry_1&mb=C%2fYVyrWOVL64LDSJkCJon%40HnVev1imbCSJlfC%2fY9Tk4%3d
"How to treat painful sex." Fox News. FOX News Network, 12 May 2013. Web. 9 Apr. 2014.
http://www.foxnews.com/health/2013/05/12/how-to-treat-painful-sex
When sex gives more pain than pleasure. N.p., n.d. Web. 9 Apr. 2014.
http://www.health.harvard.edu/newsletters/Harvard_Womens_Health_Watch/2012/May/when-sex-gives-more-pain-than-pleasure?utm_source=womens&utm_medium=pressrelease&utm_campaign=womens0512
"Painful intercourse (dyspareunia)." Definition. N.p., n.d. Web. 9 Apr. 2014.
http://www.mayoclinic.org/diseases-conditions/painful-intercourse/basics/definition/con-20033293
Painter, Kim. "Painful menopausal sex: New drug prompts discussion." USAToday.com. USATODAY, a division of Gannett Satellite Information Network, Inc., n.d. Web. 9 Apr. 2014.
http://www.usatoday.com/story/news/nation/2013/10/15/painful-sex-menopause-drug/2968073
"Persistence Is Key to Treating Sexual Pain." Well Persistence Is Key to Treating Sexual Pain Comments. N.p., n.d. Web. 9 Apr. 2014.
http://well.blogs.nytimes.com/2012/08/06/persistence-is-key-to-treating-vaginal-pain/?_php=true&_type=blogs&_r=0
"Save Your Sex Life." When Sex Hurts: Tips and Tricks to Overcome Discomfort. N.p., n.d. Web. 9 Apr. 2014.
http://www.psychologytoday.com/blog/save-your-sex-life/201108/when-sex-hurts-tips-and-tricks-overcome-discomfort
Reviewed April 11, 2014
by Michele Blacksberg RN
Edited by Jody Smith